Google and Samsung have launched fresh hardware aimed at reviving interest in its ChromeOS platform, with a laptop for end users and a desktop box system.
Sales for ChromeOS have been less than stellar but the Chocolate factory has insisted that the platform has enough advantages to make it in the operating system market. Linus Upson, Google's vice president of engineering and Caesar Sengupta, director of product management were so inspired by the launch that they made the announcement in haiku form.
"Last year we announced
A new kind of computer
This is the next step."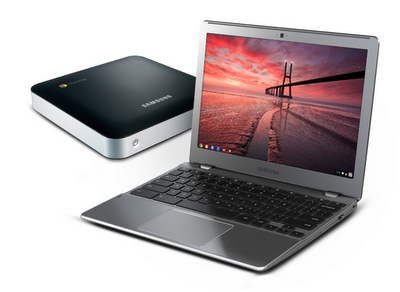 Samsung's latest foray into the world of ChromeOS
Samsung and Acer have both got ChromeOS laptops on sale, and Samsung has updated its offering with the 12.1 inch Series 5 550, running an Intel Celeron 867 1.3GHz processor with a 16GB solid state drive and 4GB of RAM. At $449 the 550 isn't cheap and users will have to choose between a 3G version arranged the customary two years of free monthly data rations or one using Wi-Fi to augment its Ethernet connectivity.
The Series 3 Chromebox is Samsung's first desktop ChromeOS system, in a tiny 19 x 19 x 3.3cm package. The Chromebox has a slightly nippier Celeron B840 processor, 4Gb of RAM, a DisplayPort and six USB sockets. It's a cheaper option at $329, but you've got to factor in the cost of the peripherals needed to make it more than a doorstop.
"As the world's first Chromebox, the Series 3 provides users with the Chromebook's ease-of-use in a compact desktop product, which easily integrates with their existing accessories," said Todd Bouman, vice president of marketing at Samsung Enterprise business division in a statement. "The second generation Chromebook features powerful components housed in a slim, lightweight body, thanks to Samsung's advanced hardware engineering."
While Bouman said the company's first Chromebook had been "well-received" no indication of actual sales numbers has been given, and Google's not talking either. The systems have had some success in the education market, although tablets look to be a more popular choice, and having a desktop option may help with the enterprise market.
But the kind of prices Samsung is asking for these systems could prove problematic for the company. For the same money as the 550 Chromebook Samsung will sell you a Pentium-powered 15.1 inch Windows 7 system that doesn't need an internet connection to be useful.
Google also seems to have new retail partners for this round of Chromebooks, as it now offers Amazon and NewEggg as folks willing to flog you a 'box or 'book. BestBuy was onboard first time around. UK buyers can grab the devices from John Lewis, PC World and Best Buy. ®
Similar topics