This article is more than 1 year old
Score! Classic Goals
Score draw something
iGamer Saturday, 6 October 2001 at Old Trafford. It's the nintey-third minute and England are staring into the abyss. Following a typically nervy performance, we're 2-1 down to Greece, facing the ignominy of gifting automatic qualification to Germany and the prospect of a tricky two-leg play-off against Ukraine to reach the 2002 World Cup Finals in Korea and Japan.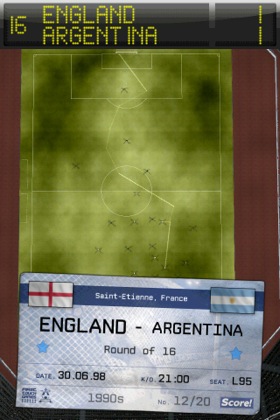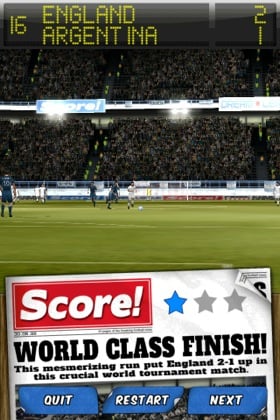 Play the great games
Seconds left and with a free kick 30 yards out, the nation's prayers rest upon one man. Just a short run up; a meagre four steps; that inimitable swivel of his hips to open up that mercurial right foot, and David Beckham curls the ball high around the keeper and into the top-left corner of the goal.
That's just one of many magic goals you can score in Score! Classic Goals, First Touch Games' sublime line-drawing footie sim. Covering four decades of international games between 1980 to 2010, from friendlies and qualifiers to European and World Cup finals, the objective is to recreate classic goals by passing and shooting with just the right power and direction.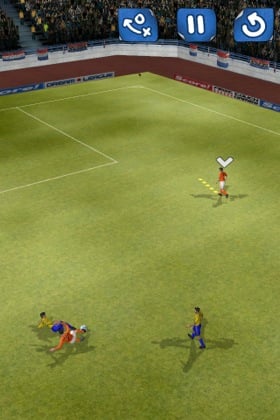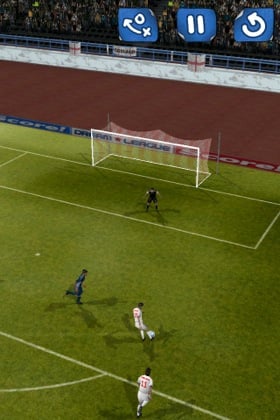 He draws. He shoots. He scores
Want to smash in Josimar's stanchion-busting goal against Northern Ireland in 1986? Simple, just curl a line from the outside of his right boot and let rip.
Or fancy recreating Bergkamp's wonder strike against Argentina in 1998? Simple, draw a line to float the ball from Frank de Boer's left peg onto the dotted yellow path marking his run, watch as he traps it and turns, and then arc another line around the keeper to guide it home.