Score! Classic Goals
Score draw something
---
Shoot!
No game would be fun if it were that simple, of course. The line-drawing mechanics are ostensibly simple, but there's a fair degree of skill involved, with little room for poetic licence. Over-hit or misdirect a pass slightly and the defenders will pick it off with ease, with the goalkeeper comfortably saving anything other than the actual goal scored.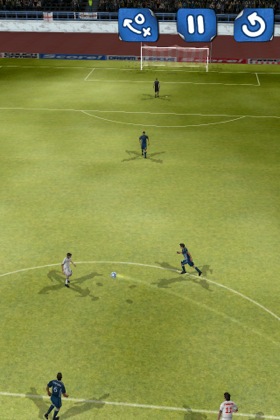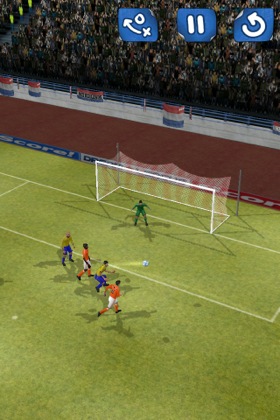 A slight degree of latitude informs the game's three-star rating system, with only a perfect recreation of the goal rewarded with all three stars. It's a great system to encourage replay, but it's let down slightly by a lack of feedback.
If you're unsure how to score the goal, you can refer to a mini-map with lines delineating the exact passes and the shot, but it lacks sufficient accuracy, leading to occasional frustrations where the goalkeeper tips away a seemingly perfect shot.
Luckily, such frustrations are rare, and with 240 goals in total – 60 in each decade – you can always skip a few and return to them later. And even when you are stuck on a particularly challenging goal, decent graphics, a surprisingly varied amount of crowd reactions and brief snippets of commentary from Gary Bloom easily hold your interest.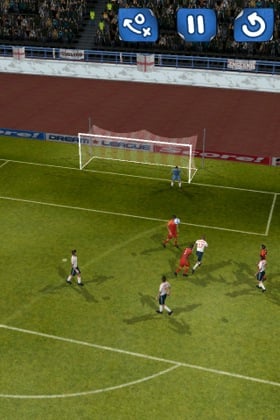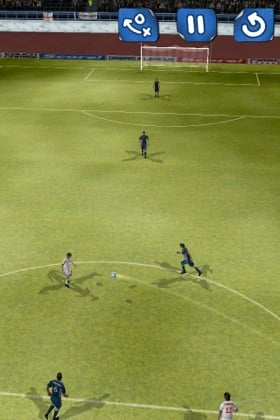 Verdict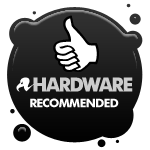 Such a simple mechanic, it's surprising no one's thought of marrying line-drawing and football before. It may not be a full blown sim like Fifa or Pro Evo, but for 69p, it's an intoxicating, highly addictive challenge for nostalgic footie fans. ®
More iGamer

Lost Winds 2
Total War Battles: Shogun
Hunters 2
Angry Birds in Space
Ten top
Android games

Score! Classic Goals
The best football game on iOS, as simple as it is beguiling.