NASA has confirmed that it is good to go with the delayed launch of the Nuclear Spectroscopic Telescope Array (NuSTAR) on June 13, and expects to begin spying out the supermassive black holes at the heart of galaxies within a month.
The $170m telescope will create the first accurate census of the "local" black hole population and one of the first targets will be Sagittarius A* at the heart of our own Milky Way. The telescope uses two racks of 133 mirrors with over 200 layers of atom-thick coatings to collect high energy X-rays from its station in Earth orbit to build up its picture of the heavens.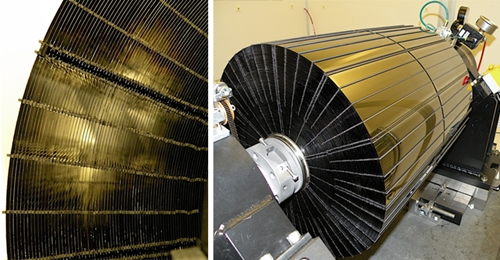 The coatings for NuSTAR took 15 years of development
"NuStar will open a whole new window on the universe; the very first telescope to focus on such high energy X-rays. It will make images that are 10 times crisper and 100 times more sensitive than any telescope that has operated in this region of the spectrum," said Fiona Harrison, principal investigator for NuSTAR, in a press conference.
At the center of each black hole is the event horizon where matter is sucked in, and NuSTAR will focus on the behavior of matter in such an extreme environment, she explained, as well as showing how fast the black hole is spinning. Einstein predicted that the effects of the event horizon would bend light and matter is accelerated to respectable fractions of the speed of light in such circumstances.
NASA already has the CHANDRA platform in orbit monitoring lower level X-ray emissions, but the new addition will focus our image enough for a valid estimate of the number of nearby black holes up to the galactic center. NASA published its expected before and hoped-for after pictures of black hole scans, but let's not forget Hubble's early troubles.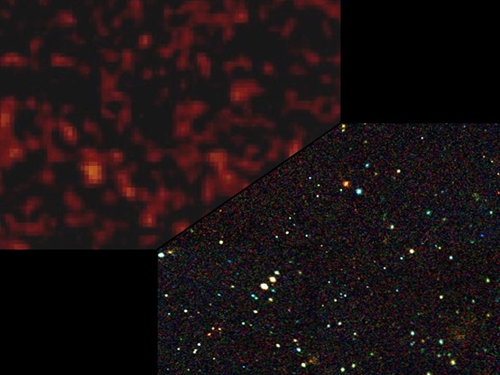 The improvement in focus should allow a detailed black hole map
As well as surveying black holes up to the galactic center, NuSTAR is also looking to investigate supernovae, particularly the most recent ones that still retain evidence of what caused the bang. Daniel Stern, NuSTAR project scientist at NASA's Jet Propulsion Laboratory in Pasadena, said the telescope could act as a "bomb squad" to investigate remaining fragments try and find out what kicked off the event
"Typically a galaxy like the Milky Way has a supernova go off every 30 years or so and it's been about 100 years since we know one went off in our galaxy," he said. "We're really crossing our fingers that a new supernovae will go off in our galaxy and we'll zoom over as fast as we can, be able to focus on it in about 24 hours and then study its earliest moments."
NuStar will be launched on June 13 (with two days flexibility) in a two-stage Pegasus XL rocket slung under an airliner flying at 40,000 feet over Kwajalein Atoll in the Marshall Islands. This is as close as possible to the Earth's equator in order to minimize the amount of time the rocket spends in the charged particles in Earth's magnetic field during flight.
Once in orbit, the twin receivers will split apart using a 10 meter expandable mast that can focus the X-rays, and then spend three weeks getting calibrated. The mast was invented for use on the Space Shuttle to deploy satellites and developed for this mission on the International Space Station.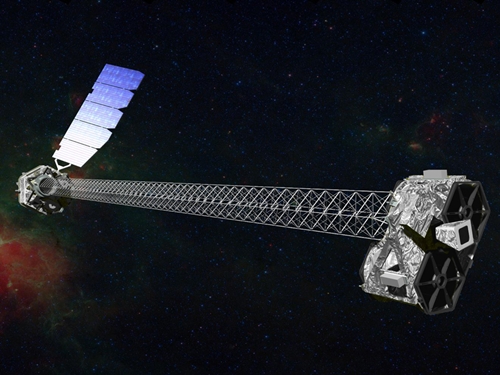 NuSTAR under deployment
"The ground is actually the worst place to test something like this, because of gravity," Yunjin Kim, NuSTAR project manager at JPL, told El Reg. The mast was built and deployed 20 times in testing on the ISS, then subject to vibration stresses before being deployed again and he said he was confident it would work to order.
Once data starts coming in it'll be fired down to a ground station in Kenya operated by the Italian space agency and then on to CalTech via the mission operations center in Berkeley. Once it has been checked, NASA will put the results online from its central repository at Goddard so anyone can access it. ®