The Amazon armchair critics are out in force to administer a righteous shoeing to the policeman figurine of Olympic mascot Wenlock, which is tasked with "the important job of protecting you on your journey to the London 2012 Games".
The blurb for this rather sinister-looking piece of merchandising suggests: "Take this figurine on a journey to the London 2012 Olympic Games – we can have lots of fun together!"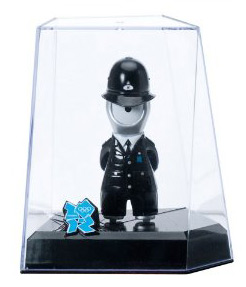 Wenlock menaces Amazon surfers, barely contained
by his plastic prison
Or maybe not. One shaken reviewer reported: "I bought this toy to take on my Olympic journey as suggested by the technical details. Imagine my surprise when I woke up the next morning to find that it had left its case, called in reinforcements and kettled me in my bed."
He added: "I'm just glad I didn't buy the water cannon or long-range acoustic device accessories."
Getting up a good head of Orwellian steam, another chipped in with:
If you want to imagine the future … imagine a policeman, baton drawn, water cannon at his shoulder, standing guard over an Olympics logo, while beside him McDonald's sells more burgers to more unhealthy people than ever, and drones cruise the sky collecting data from the phones of people suspected of anti-Olympics feelings... forever.
Still considering a Wenlock copper for the nippers? Try this dire warning:
Shortly after purchasing this toy for my son he began to complain of terrible dreams, even waking screaming on one occasion. He would look at the toy and burst into tears begging me to take it away.

I gave in and put it in my room, it's only now weeks later I can summon the strength to write this, my eyes blurring with tears. Such horror the unblinking eye, watching, judging, all the while the sound of marching Jack Boots pounding in time with the terrified flutter of heart.

Tendrils of darkness robbing my liberty, violating me and all the while the eye, the unblinking eye watches. Oh God, the eye. I'm sorry I can't go on can I stop this now.

In short do not buy this figure.
Crikey. Ever since Lord Conran expressed his dismay at Olympic mascots Wenlock and Mandeville, people have been wondering just who really is responsible for the "horrible computer generated Smurfs for the iPhone generation", and their multiple official merchandising spawn.
In this case, it's a result of "what happens when David Hasselhoff drinks methylated spirits", according to another equally dismayed Amazon punter.
We'll leave the final word on the Wenlock policeman and his all-seeing eye to this frustrated customer, who could evidently benefit from the services of Lisa Simpson:
This toy is worse than masturbating to a picture of Lord Coe, official overlord of the 2012 Olympics. And believe me, I've tried.
®
Bootnote
This online waggery has the prospect of becoming a recognised Olympic sport in its own right as the cases of Veet for Men Hair Removal Gel Creme, the Oxo Tower and Katie Price and Peter Andre's A Whole New World show.
Other medal-winning examples are this review of Rhonda Byrne's The Secret, and some fantastic customer input regarding the Three Wolf Moon t-shirt.
Here's a selection about the latter:
For you left-brain types out there, who are still unsure on whether or not this shirt would make a wise purchase, allow me to break it down for you.

Most shirts like this only contain one wolf. This shirt has three wolves, plus a moon. You are basically getting three wolves and a moon for the price of one wolf. You won't find that deal anywhere else.
---
I'm just a regular American guy. I've got a truck, smoke a little too much, maybe missing a few toes. Nothing too unusual. At my 9-to-5 I've gotten by for years on my old Two Wolf Moon T-Shirt. "Bring the loader over to bay 4" they'd say, and I'd get over there and get it done, my two wolves classy enough for work but also letting the passing ladies know I'm a raging torrent of untamed American spirit yearning to breathe free, preferably naked. I'm no Don Juan, but I did OK - mostly with Janice from Accounting, until she got diphtheria.

Most of my income went to the good life, brewed high in the Rockies if you know what I mean. But one day I decided to take some hard earned dough and upgrade. Big time. When I got my Three Wolf Moon t-shirt, I knew my life had changed, but I didn't know how much.

When I put it on, the effect was immediate. 33% more wolf was almost too much to handle. It was like wearing 1500 ccs of chaps on a 1800 cc motorcycle. The vibrations alone were almost enough to throw me off my stride. And the fact that the third wolf faces backwards while howling, demonstrating individuality at the same time as unity of purpose and nobility of spirit, was a metaphor so powerful Roy, the guy who steals my mail, practically took his own foot off with his weed whacker the moment he saw me.

Jesus.
---
The Three Wolf Moon T-Shirt gave me a +10 resistance to energy attacks, +8 Strength, and added 30 feet to my normal leap. I cannot list the specific effects involving the opposite sex as I am still discovering these. And they are many.

Since owning the Three Wolf Moon T-Shirt, I have successfully solved 7 crimes in my city, including 4 cold case murders. The local police force is currently wishing to retain my services.

I do have one complaint, and that's that I must stay indoors on windy days. Last fall we had a windy day and I received notice that hundreds of women were suddenly pregnant, carrying my offspring, up to 12 miles away.