Digital music revenue has overtaken revenue hauled in from sales of plastic discs for the first time in the UK. British music industry trade group the BPI released figures showing that digital revenue – from downloads, subscriptions and advertising – had made up 55.5 per cent of income in the first three months of this year.
The BPI correctly warned that a few more quarters are needed before the industry can say it has "turned the corner", in the words of chief executive Geoff Taylor). This is because most music is bought in the final quarter of the calendar year, and physical box sets and music videos figure largely in this buying spree.
Year on year digital rose 23.6 per cent to £86.5m. Physical revenue fell 15.1 per cent to £69.3m. But as a indication of how much Q1 is worth annually, remember that recorded music over the full 12 months generated £795.4m. You can see the trend here, using numbers from the BPI annual reports: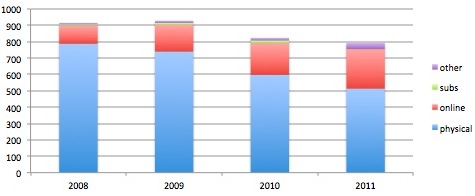 Trade revenue for recorded music, UK, 2008-2011 (£m)
And for added perspective, subscription services such as Spotify and We7 generated £9m of income for record companies in the quarter. Although that's heading upwards – up 20 per cent year on year – it's still a tiny amount. Access to Spotify may give music fans enough reason to give up their CD buying habit. CDs have superior (lossless) sound quality and come with their own physical backup, but Spotify access saves the record company's best friend – the keen music buyer – quite a lot of money.
This time next year we should have a clearer idea. The Santa-powered boxset splurge shows no sign of diminishing. Who's ever sent a loved one an MP3 as a gift? ®