Strong ARM: The Acorn Archimedes is 25
The first ARM computer
Arthur
The first machines shipped with Arthur 0.2, rapidly followed by 0.3 and soon updated to 1.2. Arthur was developed by a team headed by Paul Fellows – their work would be continued by William Stoye's group after Arthur became Risc OS. This being the era of Rom storage – of which the Archimedes has 512KB, on four chips – updating the OS required opening the machine's casing, removing the current Rom chips and replacing them with new ones.
Curiously, Acorn wanted its Arthur 0.2 Roms back, but users were free to bin chips holding version 0.3. Does anyone know why?
Arthur comprised two parts: one for the machine itself, the other, separate, for the storage. That allowed Acorn to offer multiple filing systems. Two were supplied with the original Archimedes: ADFS (Advanced Disk Filing System), a revised version of the ADFS that shipped with the BBC Master, and ANFS (Advanced Network Filing System), to be used to access server-hosted files over Acorn's Econet network tech. Users could switch from one to the other and back again at the command line.
Eschewing filename extensions, Arthur was coded to map files to applications, allowing you to key in a filename and have the correct software load it up for viewing, editing or running.
Windows, Icons, Mouse
Unlike others operating systems, most notably MS-DOS – by now six years old – and CPM (even older), Arthur could load multiple files to different memory addresses.
Not that most users delved into this command-line jiggery pokery – the Archimedes hid it all behind its own colour graphical user interface, called Archimedes Desktop Manager, of the kind already seen on the Mac and in the early forms of Windows and Gem, but here written in… BBC Basic.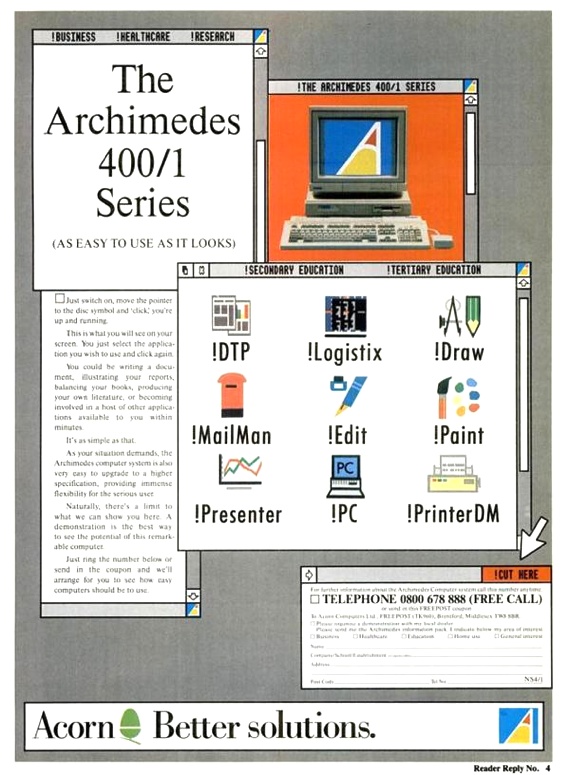 Advertising Archimedes' GUI
Source: Wikimedia
The Archimedes had a mouse too, and one that followed the WIMP UI pioneer Xerox's three-button layout: Select, Menu and Adjust.
To maintain compatibility with the BBC micros, Acorn equipped the Archimedes with 65EMU, a 6502 emulator. To offer Beeb buffs some extra familiarity, the A300 series' keyboard function keys were coloured red, as per the BBC Micro.