EMC is on the acquisition trail again, if it ever really stepped off it. The latest target was Watch4net, a Montreal-based supplier of performance management software for undisclosed wads of cash.
Watch4net is privately owned and was founded in 2000, with offices in Montreal, London, England, Munich and Toronto. Its software tells users in real-time what's happening with network, data centre and cloud infrastructure performance for enterprises and carriers. It has been an EMC partner since 2005 and its main APG product is integrated with EMC's Operations Intelligence Suite. Watch4net takes advantage of EMC's topology awareness, instrumentation and management console. As well as real-time info, the Watch4net software provides historical data and projected trends.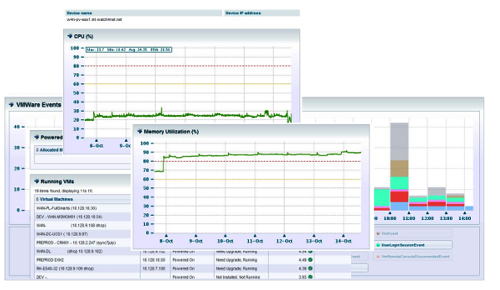 APG server reporting screenshot
Why did EMC acquire Watch4net? It is adding performance management to its existing availability management functions.
A spokesperson said: "Today, through EMC's IT Operations Intelligence (ITOI) Suite, EMC delivers an availability management, correlation and root-cause analysis solution for physical and virtual storage, networks and compute resources. With this new addition of Watch4net EMC has expanded its breadth of IT infrastructure management solutions with Watch4net's rich set of performance management capabilities."
So EMC has snatched Watch4net up to round out its IT management portfolio, which includes ITOI, the Unified Infrastructure Manager – used for managing VBlocks, both aligned with service-level management via VMware and with security management and compliance with RSA.
With EMC focusing heavily on hybrid clouds, it wants its management reporting to go deep into the abstractions and layers involved so that admin staff can diagnose problems and fix them effectively and not stop at some shallow level with deeper level problems lurking unknown and unreported.
Customers would not like that. They will want to know if the functional elements involved in the end-to-end stack of private and public cloud elements are present, correct, and working properly, and to be alerted if any element in the end-to-end layered stack starts degrading or fails. It's all about service assurance.
EMC says Watch4net CEO Michel Foix and his team will report to Jay Mastaj, EMC Infrastructure Management Group SVP and general manager.
EMC will be launching IT Operations Intelligence v9 early next week and the APG product will, we understand, be included with it. ®