This article is more than 1 year old
Magnetic medicines hit the cancerous spot
Boffins develop iron core for anti-cancer drug, drag it to tumours with magnets
A team of researchers in Australia and Scotland has designed an iron core for the anti-cancer drug Cisplatin, so that it can be dragged by magnets to wherever in your body it can do its best work.
The team's work is detailed in a new paper,Cisplatin drug delivery using gold-coated iron oxide nanoparticles for enhanced tumour targeting with external magnetic fields, in the journal Inorganica Chimica Acta. The paper details how "The platinum-based chemotherapeutic drug cisplatin is highly effective in the treatment of solid tumours, but its use is restricted by poor bioavailability, severe dose-limiting side effects and rapid development of drug resistance."
To overcome those issues, the team "tethered the active component of cisplatin to gold-coated iron oxide nanoparticles to improve its delivery to tumours and increase its efficacy. Iron oxide nanoparticles (FeNPs) were synthesised via a co-precipitation method before gold was reduced onto its surface." That process had the effect of making the drug sufficiently magnetic that "external magnets were used to demonstrate that the nanoparticles could be accumulated in specific regions and that cell growth inhibition was localised to those areas."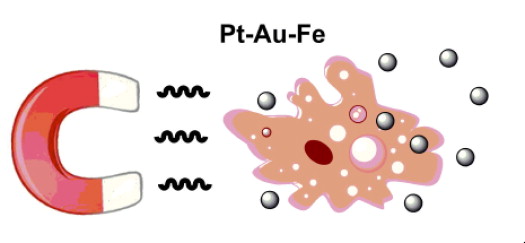 Magnetic medicines in action
Dr Nial White, a Senior Lecturer from the University of Sydney's Faculty of Pharmacy, likened the process to the student experiment of using a magnet to drag iron filings into patterns.
"When we take regular medication it is difficult to manage where it goes," Dr White explained. "But this discovery means we can potentially direct exactly where in the human body a drug goes. We can move it to the desired cancer tumour site using powerful magnetic fields. Otherwise, a strong magnet could be implanted into a tumour, and draw the drug into the cancer cells that way."
Dr White says this approach to drug delivery has the potential benefit of concentrating medicines in the tissues that need help.
"Many of the side-effects associated with chemotherapy occur because the drugs spread throughout the body, killing healthy organs as well as cancers," he says."Ultimately, this technology could greatly reduce or even eliminate the severe side-effects that people associate with chemotherapy such as hair loss, nausea, vomiting, low red blood cells and an increased risk of infection." ®