Jobs gloom in the US: But a few bright spots in IT
Truly, it's us carrying the rest on our backs
Factory output is slowing in China. Europe is still struggling with debts in Greece, Spain, and Ireland. And now the United States is adding a lot fewer jobs than needed. And, as it turns out, American companies have in the past few months added even fewer jobs than the Department of Labor originally thought.
According to the May jobs report (PDF) from the Bureau of Labor Statistics, the US economy added 82,000 net new jobs last month in the private sector (not counting the ups and downs of farm workers). Local, state, and Federal government agencies, which had put away their pink slip pads in recent months, took them out again in May, cutting an aggregate of 13,000 jobs, so the net addition of non-farm workers was only 69,000 people.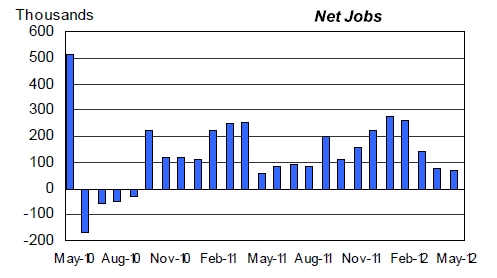 Monthly net new workers added to the US economy
The construction industry was particularly hard hit in May, with 28,000 workers losing their jobs. And it wasn't just carpenters and masons working on homes. The number of specialty trade contractors fell by 18,000 and heavy and civil engineering construction firms slashed another 11,000 people. And unlike in past months, companies engaged in professional and business services did not add workers, picking up the slack from other industries.
There were some bright spots. The healthcare industry added 33,000 workers in the United States last month, and has added a total of 340,000 workers in the past year. (This is perhaps a side effect of unhealthy eating and exercising habits by many Americans, as well as from the aging Baby Boomers and their increasing medical needs.) Transportation and warehousing companies added 36,000 workers, and wholesale traders added 16,000 people.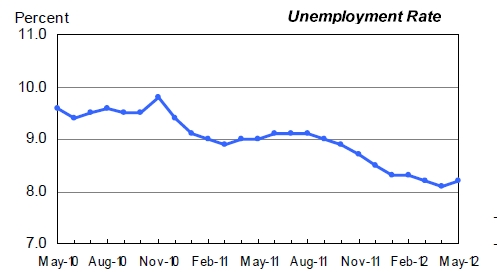 The US unemployment rate ticked up to 8.2 per cent in May
The US economy did not add the 200,000 to 250,000 jobs necessary to keep pace with population growth, as it has not done during the recovery from the Great Recession with the exception of the several months when the US government hired hundreds of thousands of workers to do the census, which happens once a decade. The official number of unemployed people was 12.7 million, and that means people who are looking for work and can't find it; an equally large number of people who have stopped looking for work are probably out there, but the BLS does not keep track of them and does not count them in the labor pool and therefore they do not affect the ups and downs of the official unemployment rate.
The other problem in the May 2012 jobs report is that the BLS now says only 143,000 jobs were added to the US economy in March, down from an original estimate of 154,000, and that instead of adding 115,000 workers in April, it looks like only 77,000 net new jobs were created. The average net new jobs for the past three months is therefore 96,333 – half the necessary rate just to hold steady and not even scratching that pool of unemployed workers.
Because the BLS does not track jobs by title but rather by industry, we cannot get a sense of how the IT and communications industries are doing. But we can create a proxy of sorts by picking out certain parts of the establishment data gathered up by the BLS to take the IT pulse. El Reg does this by looking at the raw data in the jobs report that has not been seasonally adjusted.
In the computer and electronics portion of the manufacturing sector, companies added 2,700 workers in May, for a total of 1.11 million workers. Computer and peripheral equipment makers added 100 workers within this category, to a total of 164,100 employees, and communications equipment makers added another 100 people, to 109,100. Semiconductor and electronic component makers added 1,200 jobs and employed 387,400 workers, according to the BLS.
In the information sector, telecom companies continued to hand out the pink slips, and cut another 1,300 workers in May, to 832,200, and data processing and hosting service providers also trimmed their payrolls by 300 and employ 242,300 workers.
While the overall hiring in the professional and business services sector was flat in May, those engaged in computer systems design and related services added a few jobs; 2,600 to be precise, with a total of 1.58 million people engaged in such work as the month came to a close. Management and technical consulting firms, which often are involved in IT-related work, also added 3,100 people to the payrolls, and now 1.12 million workers get their paychecks from such firms. ®