Windows 8: We kick the tyres on Redmond's new tablet wheels
Tastes like chicken
Review The surprising thing about the Windows 8 Release Preview just delivered is not how much has changed from February's Consumer Preview, or even the Developer Preview from September 2011, but rather how little.
Microsoft is set on delivering this hybrid tablet-and-desktop operating system pretty much as-is, despite widespread feedback that the concept is not quite working. Windows chief Steven Sinofsky expects the new OS to "enter the final phases of the RTM process in about two months". That means August or thereabouts to finalise the code, and pre-loaded machines on the shelves a couple of months later, in time for winter.
Windows 8 is a touch-first operating system that uses Microsoft's Metro design language, first seen in Windows Phone, on top of a new runtime layer which is designed for cloud and mobile. Apps are isolated from each other and from the operating system, and most users will install them only from Microsoft's store. Conceptually the old Windows desktop is just another app: tap it, and you are back in the familiar desktop environment.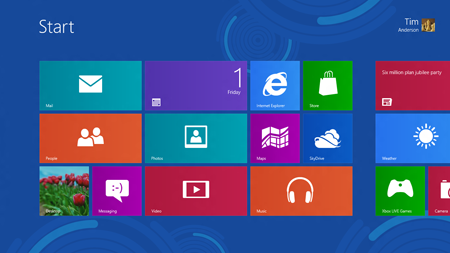 Getting started on a Windows 8 x86 tablet
So what's new in the Release Preview? I installed it on two machines, a Samsung Slate with the correct touch screen size and a quad-core desktop with dual monitors.
Perhaps the biggest change is that Adobe Flash is now baked into Internet Explorer 10, even on the Metro side which Microsoft said would be free of plugins. Technically this is still correct. Microsoft has worked with Adobe to get Flash distributed with IE 10 and updated via Windows Update. This will work on ARM as well as x86 devices.
There is a catch though: Flash support only applies to sites on a compatibility list distributed by Microsoft.
I found Flash worked well on major sites, but not elsewhere. This is intended as a compatibility feature, not for the long-term. Nevertheless, this will be a selling point for Microsoft against the iPad, although with many sites now making special allowances for Apple's Flash-free tablet in their multimedia content this is not the big deal it once was.
What is odd is that Microsoft has not done the same for Silverlight, its own multimedia and application plugin. This is particularly strange given the extensive Silverlight dependence in Microsoft's own products, such as the recently released System Center 2012 which used the plugin for most of its web management consoles. Visual Studio 2012 has a dedicated tool, LightSwitch, for Silverlight applications.
IE 10 has some other new features. By default, IE has Do Not Track set to on. The value of this depends on whether a website behaves correctly; the W3C says:
Websites that track users across multiple first-party websites must check for the presence of the Do Not Track user preference. If a website detects that this preference is enabled, it must disable any tracking code or collection of data that can be used for tracking purposes, regardless of the level of identification of the user.
There is also a new feature called Flip Ahead that will let users advance to a specified new page by swiping rather than by clicking a link. This is designed for multi-page articles.
We did find some odd behaviour with Metro IE 10. For example, on some sites a download prompt would appear for a .swf (Adobe Flash file) and would not go away, whether you tapped Open, Save or Cancel. This is the kind of issue you can expect with a preview browser that lacks plugin support and should improve.
Next, Microsoft has improved multi-monitor support. This starts with new backgrounds designed to span two or more screens. More significantly, you can now display the Start menu on any display, which helps with usability since you can summon Start on the screen where you are not currently working. Another advantage of this arrangement is that you can run Metro apps without obscuring the primary screen with its desktop notification area, which we found annoying in the Consumer Preview.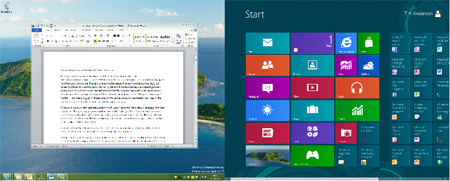 Work on the primary display, Start on the secondary display - multi-monitor support
New Metro-style apps in the Release preview include News, Sports and Travel, good-looking apps that depend on Bing search to deliver content from the web in a swipe-friendly style. That said, the apps currently on offer in the Store are few and - in general - not compelling, considering their importance to the success of this project. There will be more for the final release, and they will need to be good to persuade desktop users that Metro is any more than a distraction.
The Mail, Calendar and People apps are enhanced compared to the Consumer Preview versions. The Mail app lets you specify how far back to synchronise your email, and whether to include contacts and calendar from each account.
Unfortunately there is still no option to forward an email.
I also had trouble connecting to Exchange, even with a fully patched Exchange 2010 server sitting on the local network in the same room. Exchange support depends on Autodiscover, a mechanism for automatically detecting emails settings via DNS, but even with Exchange reporting that Autodiscover was set up correctly, it did not work - presenting a typically uninformative message: "Unable to connect. Ensure that the information you've entered is correct." If in doubt, blame the user.