Desktop tweaked for Metro
Microsoft is tweaking the Windows 8 desktop to give it more of a Metro feel, with squared window corners and a more blocky style. The Aero theme in Windows 7 and Vista is being retired, according to Microsoft, but we will not see the final desktop theme until the final release.
Windows 8 Release Preview feels more refined than before. The Metro user interface is responsive and the best apps, such as Weather, work beautifully as you swipe through from quick overview to detailed historical charts from Wolfram Alpha. On the desktop side, Windows 8 feels faster than Windows 7, though that may be partly the effect of a new, clean install. Nevertheless, applications such as Office 2010 run sweetly.
Windows Release Preview does improve on the Consumer Preview three months ago, but does it fix those things that have most annoyed the Windows community? In general, no. Users have complained of the jarring effect of switching between the Metro-style Start menu and the desktop, and this still exists in the Release Preview.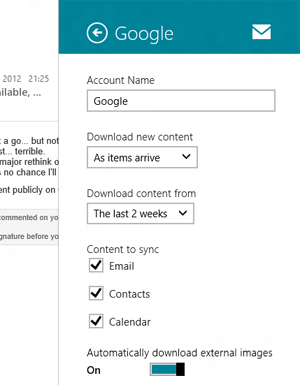 New mail options: Google worked but Exchange failed
Further, the Start Menu still fills up with a mass of disorganised shortcuts as you install applications, since it does not reflect the grouping which existed in the old Start menu. "Digital Certificate for VBA Projects" installs with the same status as "Microsoft Excel". In practice, you find yourself developing Start menu avoidance strategies, like pinning every possible application to the taskbar. One welcome concession to desktop users is the Power Users shortcut list, summoned by right-click in the bottom left corner, which gets you the most frequently used utilities such as the Event Viewer and Device Manager.
Another common complaint is that typical Metro-style apps waste screen space. On a 1280 x 1024 desktop, for example, it seems odd that the SkyDrive app can only fit three rows of document shortcut icons in its default view. Go to the Detail view and you get nine. Touch-friendly, but for users equipped with mouse and keyboard this feels wrong.
A more fundamental issue is the lack of integration between the Metro side and the desktop side. This is by design, but it is also continually confusing, particularly with applications like IE 10 which exist in both environments.
Microsoft is committed to full-screen apps on the Metro side, as part of its "immersive user interface", but this itself is an annoyance. How difficult would it be to offer an optional status and notification bar to run across the top or bottom of the Metro UI? There is plenty of room for it.
The company's answer to this kind of criticism can be found in a post from Jensen Harris, director of program management and formerly a key member of the Office 2007 Ribbon UI team - a project that also ran into user opposition.
Harris describes how every new version of Windows has had vocal opponents, but that users are won over in time. "Although some people had critical reactions and demanded changes to the user interface, Windows 7 quickly became the most-used OS in the world," he says. Clearly Microsoft believes that history will repeat; though Harris conveniently forgets the warm reception Windows 7 won even in preview.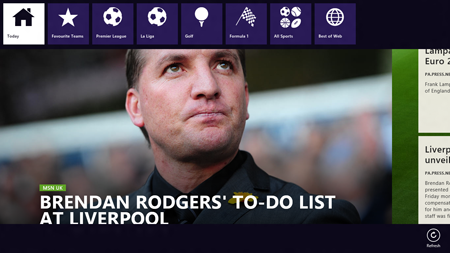 Sports app: Related content is aggregated in one swipe-friendly format
Will users be convinced by Windows 8? On the plus side there is excellent engineering here, both in Metro and on the desktop, and a user interface that really does work for touch users. The case against is that Microsoft is not listening to the feedback from even its most committed users.
A few relatively small tweaks, like the ability to run Metro in a window, would ease the transition, but Microsoft has taken the bold or foolish or obstinate (pick your favourite) decision to press ahead with its original design.
Microsoft will get this right eventually, even if it is not until Windows 9, and in the meantime Windows 7 is set for a long life. The company may not care much about that, since it is more concerned about competing with Apple's iPad. In this respect, the launch hardware from Microsoft's OEM partners will be critical, on ARM (WindowsRT) as well as on x86 - WindowsRT will only be available on the hardware, unlike on the x86 side.
The company has also announced an upgrade offer which means that users buying Windows 7 PCs after 2 June, 2012 will get an upgrade to Windows 8 at a nominal price. ®