This article is more than 1 year old
AMD gooses the clocks on 'Bulldozer' Opterons
Last hurrah until 'Piledriver'?
Chip giant Intel has hogged all of the headlines lately in the server racket lately, and Advanced Micro Devices this morning is trying to get a word in edge-wise with some clock speed bumps on its "Bulldozer" family of processors for server with one, two, or four sockets.
Don't get too excited, though. This is not a rev on the Bulldozer core or anything like that, but rather just the normal deep bin sorting that AMD always does a few months after the initial release of a chip - as the wafer baking process matures and, generally, as a reaction to whatever Intel is doing at the time.
The Opteron 4200 (for servers with one or two sockets) and 6200 (for servers with two or four sockets) launched in November, ahead of Intel's "Sandy Bridge" Xeon E5 assault in March and April and got the jump on Intel at the low-end with its Opteron 3200s for single-socket microservers in March, ahead of the Intel "Ivy Bridge" Xeon E3-1200 v2.
AMD, under new CEO Rory Read and a new management team, is not trying to get the jump on Intel so much as get partner GlobalFoundries to predictably ramp its 32 nanometer processes and get on track to the next process nodes in the roadmap. This will help AMD can better compete against the current and future Xeons and forthcoming "Centerton" Atom processors aimed at servers.
There are two new "Interlagos" Opteron 6200 processors and three new "Valencia" Opteron 4200 processors, and all of them are just deep bin sorts on the chips coming out of GlobalFoundries, Michael Detwiler, product marketing manager at AMD, tells El Reg.
The entry Opteron 3200s are not being refreshed at this time, and Detwiler was not at liberty to divulge if there will be other speed bumps in the current Bulldozer family of Opterons before the next-generation "Piledriver" cores and their related Opterons come to market, perhaps starting later this year.
If recent history is any guide, this is the last hurrah for the Bulldozers and AMD is focused on getting its new cores etched and baked onto the future Opteron 3300 ("Delhi"), 4300 ("Seoul"), and 6300 ("Abu Dhabi") processors for the existing C32 and G34 processor sockets and SR5600 chipsets.
Here is the current Opteron 6200 lineup and how it stacks up against the prior Opteron 6100s: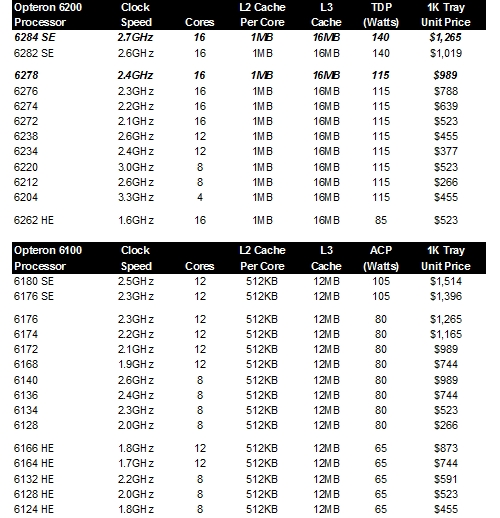 Updated AMD Opteron 6200s; new chips in bold italics
As is usually the case, it is debatable if the extra oomph in the chips that come out of the deep-bin sorts is worth the money that AMD is charging. (The same holds true for Intel's Xeons.) But in this case, if you are a high freaky trading company or HPC center that needs an extra couple hundred megahertz and you have money to blow, these chips are possibly for you.
The Opteron 6284 SE (short for Special Edition and burning 140 watts of juice) runs at 2.7GHz, a 3.8 per cent jump in clock speed. But that extra 100MHz pushes the price to $1,265, which is 24.1 per cent more than a 2.6GHz Opteron 6282 SE running at 2.6GHz and costing $1,019.
You really need those clocks on those 16 cores to pay that premium. That said, you get 16 threads running at 2.7GHz, and that is still faster than the top-bin Xeon E5-2470 part from Intel for two-socket boxes, which runs at 2.3GHz with eight cores and 16 threads with HyperThreading turned on for $1,440.
The faster E5-2670 processor from Intel runs at 2.7GHz with eight cores, in a 130 watt power envelope, and costs $1,723; the E5-2690 burns at 135 watts and runs at 2.9GHz across its eight cores, but costs $2,057. If you want a four-socket machine, a Xeon E5-4650, which runs at 2.7GHz and is also rated at 130 watts, costs a staggering $3,616.
With those price differentials, you can see now why some HPC shops looking for fat server nodes or those using heavy virtualization on their x86 iron are going for the Opterons.
Still, that new 16-core Opteron 6728 that runs at 2.4GHz is only 100MHz faster than the Opteron 6276, which is a 4.3 per cent bump, but it costs 25.5 per cent more. You are going to need the cash and a pretty good reason to justify that money. (Perhaps the new AMD management is wishing they had not cut prices quiet so low on the Bulldozer Opterons and is trying to make up for it a little?)
AMD is adding three new chips in its Opteron 4200 lineup: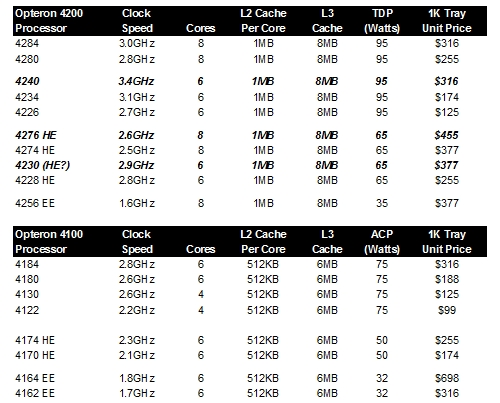 Updated AMD Opteron 4200s; new chips in bold italics
That Opteron 4240 chip, which is a standard 95 watt part, runs at 3.4GHz, which is a respectable 9.7 per cent faster than the next SKU down the line, but it costs 81.6 per cent more.
The Opteron 4276 HE (which is short for Highly Efficient and meaning it is a low-voltage part) is 20.7 per cent more costly than its nearest sibling in the Bulldozer family, but only adds 4 per cent on the clock speed.
AMD's announcement calls the Opteron 4230 a regular part, but with it only consuming 65 watts and running at 2.9GHz, is looks like an HE part to El Reg and that is why we put it in that part of the table.
The Opteron 4200s don't have SE parts, and there have been no updates to the Extremely Efficient (EE) very low voltage Opterons. If you want super low power consumption, then the 1.6GHz eight-core Opteron 4256 EE is your only option for a two-socket server.
Depending on the workload and the memory requirements, a single-socket Opteron 3200 processor, which is less expensive but which has fewer cores in the 45 watt thermal band, might be a better option than an Opteron 4256 EE. ®