This article is more than 1 year old
Firefox 13 now available for download
Arrives one day early with New Tab and Home pages
Updated Although its official release date is not scheduled until this Tuesday, Firefox 13 is now available on the Mozilla website.
Notable among the upgraded features in Firefox 13 are redesigned Home and New Tab pages. The Home page – accessible rather intuitively by entering about:home in the address field – allows easy access to settings and content such as downloads, bookmarks, history, add-ons, sync, and preference. Not exactly a game-changer, but a useful convenience nonetheless.
The New Tab page owes more to Apple Safari's Top Sites page then it does to Google Chrome's New Tab page, but the concept is the same: create a new tab by either choosing File > New Tab, Command/Windows-T, or by clicking the "plus-sign" icon in the tab bar, and you are presented with thumbnails of often-viewed sites that you can either allow to repopulate themselves, or pin your favorites into place.
Although Macgasm has no kind words for the gesture support in the Mac version, we're not trackpad ticklers, swipers, or fondlers, and thus will leave fanbois to make up their own minds about that matter.
To our eyes, Firefox 13 seems a perfectly capable upgrade, but we did encounter one niggle in our brief dalliance with the browswer on Monday morning: although smooth scrolling is now on by default (Firefox > Preferences > Advanced > General > Use smooth scrolling), scrolling still suffers from the same occasional jitters as it did in previous versions.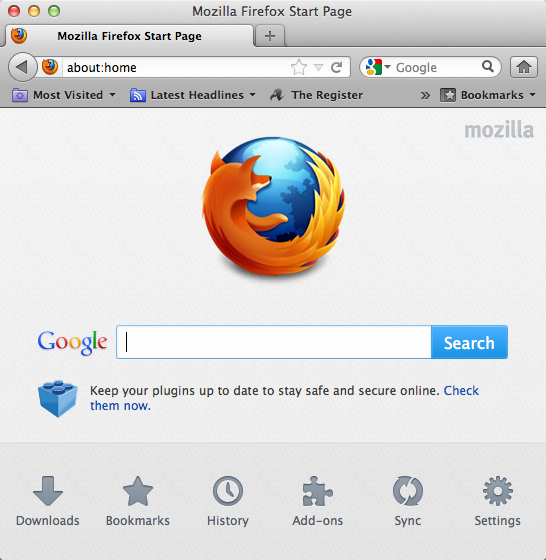 The new Home page is nice, but no biggie – but what do you expect with updates every six weeks?
It used to be that one could relax with a browser version for a goodly amount of time. Google Chrome changed that, what with its rapid update-release schedule. Mozilla followed suit, and is now releasing updates and six-week cadence. Expect Firefox 14 on July 17, 15 on August 28, and so on.
We found what appear to be for all intents and purposes the final Windows, Mac, and Linux release candidates for Firefox 13 on Mozilla's site, but the company didn't immediately respond to our request for confirmation.
Perhaps they're off celebrating QE II's Diamond Jubilee. ®
Update
Apparently the Mozillans were not, as we had speculated, off lifting a pint or three to the queen. A spokesman got back to us after this story was first published, saying about the status of the versions we linked to above, "That build is still under testing. We will let you know when it is officially live tomorrow."