Intel partners prep 20 Clover Trail Windows 8 tablets
Mobile showdown with ARM looms...
---
Forget Ivy Bridge and Ultrabooks, Intel already has its partners working on 20 new tablet designs based on its Clover Trail Atom chips, as the firm looks to take on rival ARM in its own back yard with a renewed mobile push.
Chipzilla SVP Tom Kilroy revealed the plans during a keynote at the Computex trade show in Taipei – an event where Ivy Bridge-based Ultrabooks and tablet hybrids running Windows 8 have dominated so far.
Intel has of course been a little slow to the mobile game, where chips designed by British success story ARM have historically dominated, but is making up for it with a big investment in its 32nm Atom SoC Clover Trail designs.
The chip giant is pretty confident it has cracked the old power efficiency problems which have held it back in the past and will aim Clover Trail to coincide with the much-anticipated launch of Windows 8 at around October time.
In fact, it could have the edge on ARM when it comes to tablets based on the new Microsoft OS in that it will work with existing Windows apps, unlike the new Windows RT operating system being designed for ARM chips.
There were no details on exactly who's making these 20 Clover Trail tablets, but expect the usual suspects of Asus (whose effort is pictured below), Acer, Lenovo and possibly Dell, amongst others.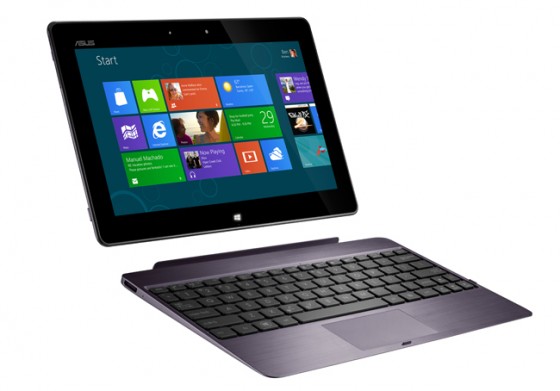 In fact, Taiwanese giant Asus has jumped the gun by already showing off one of its next gen Atom-based designs, the Tablet 810, at the expo on Monday.
Elsewhere at the show it has been all about Ultrabooks running Intel's new Ivy bridge chips, with Kilroy claiming that more than 35 new models will be available within the next 30 days, and over 110 designs expected in the next year.
Aside from Asus and Acer's pre-show beauty parade, MSI debuted a snazzy Ultrabook/tablet hybrid. The MSI Slider S20 features a 10-point multi-touch screen which collapses down neatly over the keyboard so that the device can be used as a tablet.
Toshiba, meanwhile, showed off what it claims to be the world's lightest 13in Ultrabook. The Portégé Z930 supports Ivy Bridge Core i5 and i7 processors, is only 15.9mm thick and weighs in at under 1.1kg, according to the vendor. ®