This article is more than 1 year old
Google Maps adds aircraft, tricycles and skiers to cover all bases
Touts a billion monthly users ahead of WWDC
Google has been singing the praises of its mapping projects, outlining plans for a fleet of aircraft to provide 3D city modeling, offline storage of detailed maps, using StreetView on skis and snowmobiles and the mapping national museums and monuments with backpack 360 degree cameras.
The Chocolate Factory went all out to impress on the assembled hacks the amount of time, effort and money Google is ploughing into its Maps service and Google Earth application. The timing is interesting; Next week Apple holds its Worldwide Developers Conference (WWDC) and is widely rumored to be announcing a break from Google Maps and the introduction of its own mapping service.
At the press conference in San Francisco Google said that it now had a billion monthly users for its Maps line and was investing heavily in moving the system onto ever more detailed coverage over the next three years, including an 3D mapping system called Tour Guide that would be created by hiring a fleet of aircraft to map cities containing 300 million people around the world with high resolution cameras shooting down at 45 degrees to capture building appearances.
Back on ground level, StreetView is also extending its reach, although hopefully Wi-Fi capture will now be switched off. Google's fleet of StreetView cars has covered five million miles of tarmac, creating an archive of 20 petabytes of information, and the company is now moving off-road.
StreetView cameras have been mounted on boats, trains, tricycles and even a snowmobile – in the latter case to map out the Vancouver Winter Olympics site. Brian McClendon, vice president of engineering for Google Maps, said he had added photographs from Antarctica to add that continent and Google's engineering director Luc Vincent showed off a backpack camera that he had taken skiing.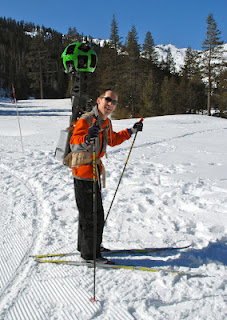 Google's Luc Vincent destroys the French reputation for being stylish in the ski slopes
Museums and national monuments will also be scanned but there are limits. McClendon ruled out the use of remote drones to capture footage, saying that the use of such aircraft was still being sorted out and it was a "can of worms" Google didn't want to get into.
Travelers who are worried about getting skinned on roaming data charges will also be able to download maps in the next few months. These can cover street-by-street detail and will work with GPS systems to finally replace paper maps, according to one Google team member. But this feature is only available to Android users, with nothing for the iPhone crowd.
And that's the rub of today's media jamboree. If Apple does announce its own mapping service at WWDC then Google wants to remind everybody how good it is beforehand, and the timing and scale of the press conference suggests the company takes the threat seriously and is making sure it gets its defense in first.
Could Apple produce a mapping service that could beat the detail of Google Maps next week? Quite frankly the answer is no. But it could build a good enough service, and there's little benefit in Cook's crew playing nice with Google since the Chocolate Factory appears to have crippled mapping functions for iOS users. Apple's first response emerged in March, when OpenStreetMaps data turned up in iOS's photo-tagging feature.
In the face of repeated questions McClendon resolutely stonewalled on the reasons for this. "There's a lot of differences between what's possible on different platforms but we want all services on all platforms," was all he told El Reg.
Given the amount of time and money Google has ploughed into mapping systems you can understand why it wouldn't give all the fruits of that labor to Apple for free, using it instead as a selling point for Android. While the operating system is doing very well at the low end of the market, Google is eyeing high-spending Apple users and looking to offer extra goodies to tempt them. ®