Microsoft expands Xbox extras
Tuned-up hub with WinPho control
Microsoft took to E3 this week to bolster its claims that its gaming console performs as a complete entertainment hub with the announcement of two products: Xbox SmartGlass and Xbox Music.
The company clearly agrees with Nintendo that a second display interface is the way forward for its games console, although its new mobile app - Xbox SmartGlass - means those with Windows Phone handsets already have the hardware required.

Those who use the app can control their Xbox content through it, navigating the dashboard and browser with swiping gestures rather than being limited to an Xbox controller, or the dubious reactiveness of the Kinect peripheral.
It also allows users to ping content from the handset, straight to the Xbox with a simple swipe. Meanwhile those watching content through the Xbox have the ability to view related goodies on their phone simultaneously, bringing greater depth to what's on show.
Microsoft's push for entertainment hub greatness didn't stop there though, as it officially revealed its answer to Spotify - Xbox Music.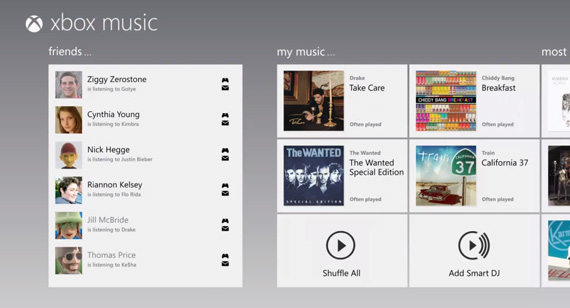 Previously codenamed Woodstock, the Zune successor is a service available to Windows 8, WinPho owners and of course, Xbox users.
Xbox Music provides access to 30 million tunes, which can be purchased for download or streamed for a monthly subscription, and comes with heavy social integration, for sharing what it is you're listening to with your buddies. Better take extra care when you stumble upon a Cliff Richard song, eh?
While no launch dates were revealed, we expect the services will be in full swing for the launch of Windows 8 later this year. ®