Reseller kingpin: My rise from school disco boss to FTSE 250 biz
Computacenter boss Norris on Essex, dyslexia and the Ford Escort
---
Part One It's a chilly night in December 1978, and inside Zhivago's nightclub in Southend, a bunch of pubescent disco divas are getting down to the sounds of Earth, Wind and Fire, amid the clink of Tizer bottles and the rustle of terylene slacks.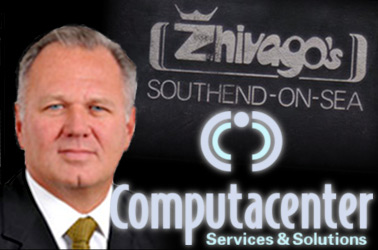 This was the glamorous setting where Mike Norris, head boy at Eastwood High School and future chief exec at Computacenter, got a taste for balancing risk and reward by organising the school Christmas dance.
"I couldn't book a Friday or Saturday night so we got a Wednesday night. It was £200 to hire the place but if I put 200 people in there the management told me I'd get it for free, so I decided to sell tickets for £1 each," he told The Reg.
Norris realised after committing to the Zhivago's extravaganza that he could be left out of pocket. So he tried to cut a deal with his headmaster: the school should cover any potential losses but would take all the profits should there be any.
The head's reply was concise: "No."
Norris proudly added: "I sold £450 worth of tickets, gave my mates £5 here and there for helping me, made £400 and bought my first Mini. It had sliding windows and anyone could start the thing with a screwdriver or pencil. A couple of times my mates would often get in, take off the handbrake and move it to another part of the school car park."
This all-too-brief flirtation with nightclub management is not a typical foundation for life as a FTSE 250 boss, but then again Norris is not your typical CEO.
The outspoken man at the helm of Computacenter (CC), Europe's largest reseller, for the past 18 years has battled with dyslexia on a daily basis and is proud of his Essex roots, which some may say, rightly or wrongly, is an even greater affliction to deal with.
Norris has just passed his own half century and spent 28 of those years at the London-based firm, starting in 1984 as a sales rep and "glorified tea boy", and raising to the top office a decade later.
Born in Chelmsford but raised and educated in Southend, Norris had a natural affinity with numbers but struggled with English so much so it looked unlikely that he'd progress to university.
"I failed my 11+ test. I'm completely dyslexic, it made me a late developer at school. I failed my English O-level on five occasions," he said.
Norris went on to sit A-level Maths, Computing and Statistics, getting two Bs and a C, but getting to uni was no easy task as O-level English was a requisite to bag a place. Things came to a head at a parents' evening.
"My maths tutor said: 'Michael is gifted.' I know that sounds dramatic but then my parents met the deputy head, Mr Gardner, who had heard this story and said, 'Your son will never get English O level, he will never be able to go to university'. A bit unpleasant. My mum cried."
His parents enlisted a tutor who identified the problem within four sessions and contacted his school, which in turn allowed Norris to enter exams 45 minutes earlier than other students to read through his test paper.
He made it to the University of East Anglia to study Maths and Computing, learning Cobol and Pascal programming.
Norris says he was "not the typical geeky" computing student and "learnt more from playing cricket and rugby at uni than anything else". He was El Presidente at the uni sports club and was allocated a budget to manage.
'Computers, I get those'
University life came to an end, and Norris left with a fairly heavyweight degree. He did not entertain career paths open to him as a maths teacher or an actuary, and instead he simply fell into selling computers at Norwich-based IT dealer Synergy Computers.
"It was very simple, I hadn't organised anything, hadn't applied for anything. I was literally at congregation getting cap and gown and one of my lecturers in computing Trevor Wood Taylor tapped me on the shoulder and said, 'What are you doing going forward?'
"I knew he had this involvement with this little reseller. He said why don't you come and work for us, I thought he meant as a research student but he said, 'don't be ridiculous'. I genuinely thought I'd like to sell stuff and 'I get computers', it was an unbelievable growth industry. Four days later I started at Synergy," said Norris.
Synergy employed 12 staff that largely sold ACT Sirius 1 and Apricot PCs, and peripherals, to local SMEs. "It gave me a great buzz, there was nothing like it and still isn't".
Norris said he quickly realised selling "multiple units was more fun" after striking a deal for 20 PCs with Norwich Building Society.
It was likely more lucrative too, and cash is obviously a motivator.
"Call me sharp, but I worked out that big customers weren't in Norfolk so I thought I had to get to London to work for a proper computer company. I picked up a trade mag and began calling recruiters."
Interviews with NCR and Digital followed, but then Norris was sent to "this company called Computacenter" based in Kensington High Street, and met owner Philip Hume, who was "materially more impressive" than the vendor HR staff who had interviewed him.
"At the second interview I met a sales manager and he asked if I had any questions. I asked 'where do you park', and he replied by the parking meters outside. 'What happens if I'm in a meeting longer than expected and get a ticket?' The reply was: 'You'll have to sell more.' I come from a background where getting a parking ticket is a criminal offence.
"I started as a trainee sales guy, somewhere between making the tea, trying to pick up small customers and the scraps off the end of people's tables, a lead here and there."
Norris' first company car at Computacenter was an Escort 1600 - graduating from the Escort Mark 2 he bought after the Mini died - which cost £200 less than the first large order that he bagged.
"The first order I took - the PC, screen, printer - the whole unit, was £4,500 and the first company car was £4,300. We probably made 30 points of margin," he says.
Based on an average inflation of 3.6 per cent per year, this is the equivalent to a business spending £11,867 on those three items. Something that even the most frivolous of government departments would baulk at.
A year after joining CC, Norris "got every Essex boy's dream car, an Xr3i", adding: "It is still probably the best car I've ever owned." ®
See part two next week.