Bill Gates' used car sells for $80,000
Billionaire philanthopist's old Porsche 911 tops auction estimates
---
Proving that the pixie dust of fame can enhance the value of most anything, a 33-year-old Porsche 911 Turbo once owned by Bill Gates was sold at auction for far above its estimated value.
"There was enormous interest in this item from all over the world," Wolfgang Humer, spokesman for the Viennese Dorotheum auction house that managed the sale, told the Austrian Times.
Dorotheum had estimated that the pearlescent-blue 1979 beauty, which the Daily Mail says Gates sold in the 1990s, would fetch somewhere between €39,000 and €50,000 ($49,000 and $63,000). An unnamed German bidder, however, snapped up the ex-Microsoftian's ex-chariot for €64,000 ($80,000) in a telephone bid.
That bidder received not only the 2+2 speedster – voted number five in 1999's Car of the Century competition, behind the Ford Model T, Mini, Citroen DS, and Volkswagen Beetle – but also letters to and from Microsoft and Porche, and Gate's Washington state car-registration documents.
Although the whale-tailed vehicle may now be as old as Jesus was when that worthy left our planet, its 3.3-liter, 300-hosepower engine has been thoroughly overhauled, providing its new owner with the acceleration – and likely also the turbo-lag – for which the 911 was justly famous.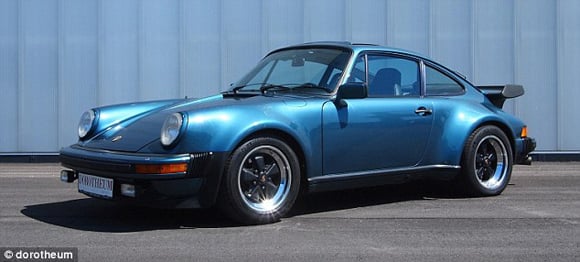 Four years after Microsoft went public, Bill Gates treated himself to this Porsche 911
These days, international philanthropist Gates – estimated by Forbes to be worth around $61 billion despite having already given away $28 billion – eschews such zippy flamboyance. "I drive myself around town in a normal Mercedes," he told the Austrian Times.
He hasn't fully given up on the Stuttgart speedsters, however. "The family has a Porsche, which is a nice car that we sometimes take out," he says.
But at heart, he's just another family man – albeit an insanely wealthy one. "We have a minivan," he confessed, "and that's what we use when it's the five of us." ®