Crowds of locals and tourists turned out yesterday to see space shuttle Enterprise come to her final rest at her floating museum home.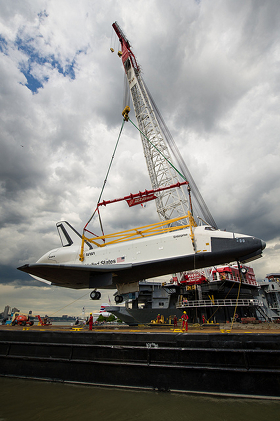 Credit: NASA/Bill Ingalls
After a day's weather delay, the shuttle set out from New Jersey port on a barge, passing the Statue of Liberty on her way north to the Intrepid Sea, Air and Space Museum, where Enterprise will be open to the public from 19 July.
It's been a long journey for Enterprise, NASA's first ever space shuttle, which flew to New York in April on its way to retirement.
Although the Star Trek-monikered ship never made it into space, each stage of its journey has drawn crowds to watch the shuttle that proved the others could make it out of Earth's atmosphere.
NASA announced in April last year that the whole shuttle fleet would be retired to locations in New York, Virginia, California and Florida. Enterprise was at the Smithsonian National Air and Space Museum in Virginia at the time, but the agency decided to swap it out for Discovery and send it to the Big Apple.
Enterprise has been stored under a protective tent at JFK Airport since it arrived and was moved onto its barge on Saturday in preparation for Wednesday's trip to the Intrepid, a repurposed World War II aircraft carrier.
One camera-in-hand onlooker captured the landing and posted it to YouTube: