This article is more than 1 year old
US Navy uncloaks stealthy underwater solar cells
Energy capture up to nine meters down
Scientists at the US Navy Research Laboratory (NRL) are developing solar cells that can work effectively up to nine meters underwater, powering marine systems for long periods of time.
Big data is not just for the boardroom, but for the battlefield as well, and military planners are working on using a lot more stealthy sensors and systems that need power without carrying batteries or sticking a solar panel out of the water. But light isn't very effective at penetrating seawater, and conventional solar cells that rely on silicon aren't very good at catching what little light that does.
"The use of autonomous systems to provide situational awareness and long-term environment monitoring underwater is increasing," said Phillip Jenkins, head of NRL Imagers and Detectors section, in a statement. "Although water absorbs sunlight, the technical challenge is to develop a solar cell that can efficiently convert these underwater photons to electricity."
While the amount of light penetrating seawater falls off rapidly with depth, what little that does get down is in a fairly narrow spectral band. The scientists focused on this area using gallium indium phosphide (GaInP) solar cells, similar to those used by satellites, which are highly efficient in visible-light wavelengths, and perform far better than run-of-the-mill photovoltaics in the blue/green portion of the spectrum predominant in seawater.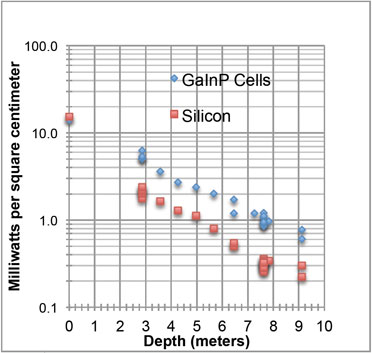 New cells focus on what little light you can get in the vasty deep
The team now estimates that a square meter of these cells would generate 7W of power at 9.1 meters of depth, with better performance – of course – at shallower depths. The team suggests they'd be most effective in coastal regions on low-power applications to replace monitoring stations using fixed power lines. ®