Services rendered
To display all of your wonderful renderings the HP Z1's 27in screen hides its 3,686,400 pixels (2560 x 1440) behind a glossy glass panel which is great for vibrant colours, but unless you've some control over lighting in your working environment then this finish can easily become a nuisance.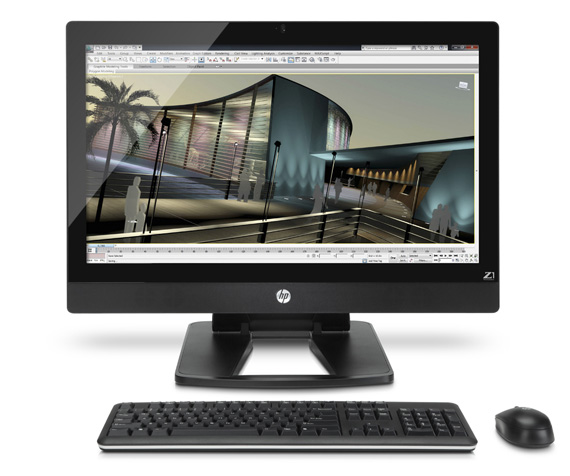 The screen looks great but the gloss finish could be distracting in some scenarios
Aside from the huge screen area, the real benefit though is that this is an IPS panel which means it remains clear at almost any viewing angle so you can show off your work to as many people as can gather round it. Personally I'd like to see HP offer an anti-glare screen, but I must admit that the picture quality is fantastic as it is.
Beneath the display lay a set of dual-cone stereo speakers which are more than capable of handling my mp3 collection, but they aren't about to wow any audiophiles. On the right hand side you'll find USB 3.0 ports accompanied by FireWire, audio ports and an SD/xD/MMC/MS reader. Around the back are four USB 2.0 ports, gigabit Ethernet, Line in/out, SPDIF, and subwoofer ports. There's also a full-size Display Port socket for connecting a second monitor, as if you need one.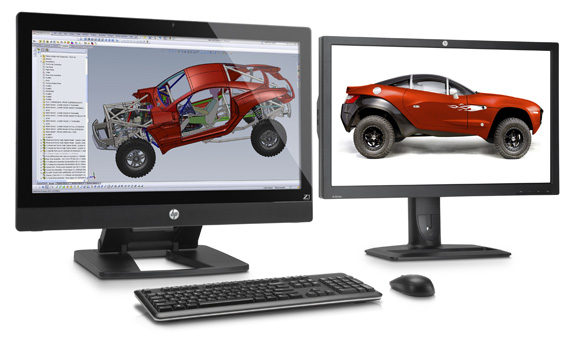 Need an additional monitor? No problem
HP also includes its bog standard wired keyboard and mouse, which are fairly unremarkable but nonetheless comfortable to use and work as expected. If you like the sound of all this hardware but aren't keen on what Microsoft has to offer, fear not because HP will happily supply enterprise Linux solutions from both Suse and Red Hat.
Anyone out there hoping the HP Z1 would be cheaper than a 27in iMac will be disappointed. The nearest BTO equivalent iMac costs £2049, which makes it almost £900 cheaper than the Xeon Z1 I have here. So, for personal users with a big screen an all-in-one habit, I would have to say the iMac is a better deal. That said, the HP Z1 offers upgrade flexibility way beyond what Apple will let you tinker with.
Verdict
If you are a professional designer that absolutely needs the Quadro GPU but can also spare the space for a tower, then a traditional workstation will provide more power and a desktop class GPU for considerably less money. As far as the user experience goes I would be happy to use the Z1 on a regular basis, but I reckon it really does need an SSD to be a real performer, as well as a higher-end Quadro card than the 1000M. It looks good, has easy access to get the best performance, but it certainly is pricey. ®
More Computing Reviews

AMD and Nvidia
extreme GPUs
workout
AMD and Intel
extreme desktop
CPU workout
Raspberry Pi
Ten...
Ultrabooks
Intel Ivy Bridge
Core i7-3770K
quad-core CPU

HP Z1 quad-core Xeon 27in PC
HP's quad-core Intel Xeon workstation takes on the all-in-one form factor with a 27in display.
Price:
£2917 (Xeon CPU), from £1686 (Core i3 base model) RRP
Similar topics