The average price of a tablet computer dropped 21 per cent in the first three months of 2012 - making $386 (£250) the average amount that customers pay for a slab.
Figures compiled by IMS research show the striking drop, which the tracker company attributed almost entirely to Apple.
Apple's price cut on its iPad 2 model in March - it pushed the price down to $399 from $499 after the release of the third-gen iPad - brought average prices down because of Apple's huge market share.
Apple's repricing put pressure on its competitors too, forcing competitive price-cutting among its high-end rivals.
In a cutting description of innovation in the tablet market, IMS analyst and report author Gerry Xu commented: "There are few innovations from vendors to differentiate their tablets; low price seems to be the major factor to attract consumers to buy tablets other than iPads."
Xu added that the price drop was putting strain on vendors who were struggling to balance performance and profitability with a low price.
At the lower end of the spectrum, Acer managed to produce an Android tablet for £130 - the Iconia Tab A110 out later this summer.
The Iconia Tab is built on Nvidia's quadcore Tegra 3 processor, a chipset that could power a generation of super cheap new Android tabs.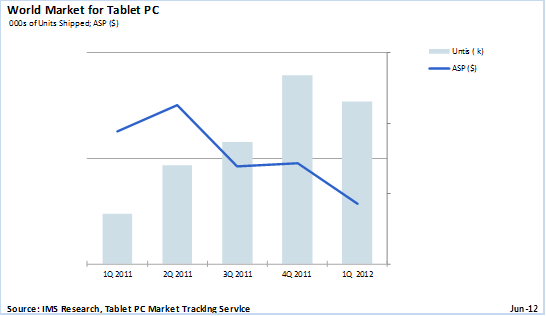 The tablet market is the fastest growing in the tech sector, but sales dropped in Q1 2012, as the graph above illustrates, after the fall-off from the Christmas period. Notably iPad 3 sales actually tailed off last month in Europe. ®