This article is more than 1 year old
Ten... Sata 3 SSDs
Solid choices for that essential upgrade
OCZ RevoDrive 3 X2 240GB


It's an SSD Jim, but not as we know it. OCZ's RevoDrives are not like your standard SSD, as they forgo the standard drive enclosure and SATA 6Gb/s interface. Instead this SSD storage is built on a PCB (or PCBs) that use the electrical interface of a 4X PCI-E slot on a motherboard. This gets around the potential bottle neck of the standard SATA interface and also offers the promise of huge data transfer rates in the future.
The RevoDrive 3 X2 240GB card is basically two 60GB standard SSD's complete with both SandForce controllers mounted on a PCB, with a another two 60GB drives and pair of controllers mounted on a daughter card. Its read speeds tower over all the other SSDs on test and so does its cost. However, it can easily be found for £100 less than the OCZ list price, if you shop around. Our full review is here.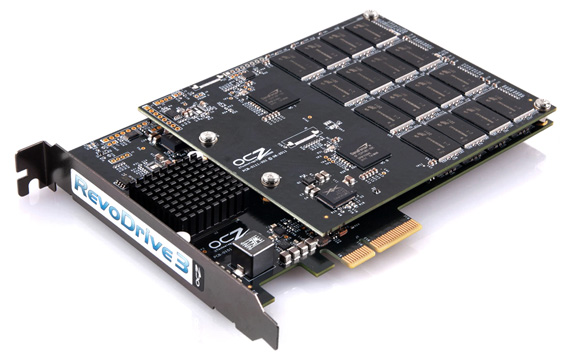 Reg Rating 80%
Price £570
More info OCZ
Patriot Pyro SE 240GB

Sitting between the high-end Wildfire and Wildfire SE series and the standard Pyro family, Patriot's Pyro SE drives are designed to offer a better price/performance mix. The Pyro SE ups the ante by utilising faster synchronous NAND flash rather than the cheaper, slower asynchronous flash that the Pyro range uses.
Both Pyro ranges and indeed the Wildfire drives use the SandForce SF-2281 controller.
 The flagship 240GB Pyro SE drive comes with quoted sequential read/write figures of 550MB/s and 520MB/s respectively. 
As with the standard Pyro, the SE version is also available in 60 and 120GB capacities and Patriot provide a 3 year warranty. It's an impressive performer too, but with a price to match.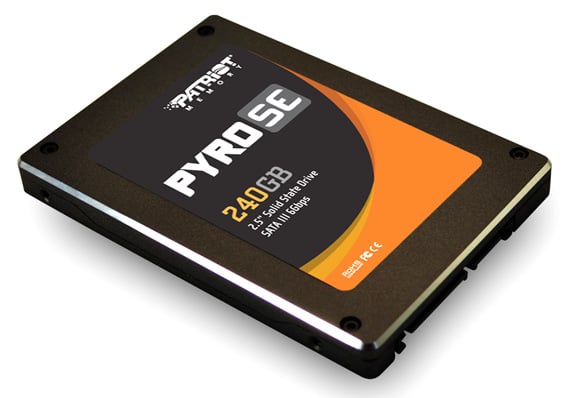 Reg Rating 80%
Price £280
More info Patriot