This article is more than 1 year old
iPhones, iPads to be FULL OF FACEBOOK and NOT GOOGLE
Mountain View 'dairy product' feels Cupertino lash
If you're harboring any doubts about bad blood bubbling between Apple and Google, Cupertino's iOS headman Scott Forstall dispelled them on Monday when introducing the next version of Apple's mobile operating system, iOS 6.
"They released a dairy product, 4.0, about the same time that we released iOS 5," Macworld quotes* Forstall as saying during his keynote presentation at Apple's Worldwide Developers Conference in San Francisco as he introduced a slide showing Android's fragmentation and old-version persistence versus Apple's iOS 5 predominance.
Forstall then went on to reveal, as expected, that Apple was leaving Google Maps behind and including its own homebrewed Maps app, complete with turn-by-turn navigation with real-time traffic updates and rerouting suggestions.
In addition, the Maps app is vector-based, making zooming and rotation smooth and seamless – and making Google Maps look oh-so last decade – and supporting a 3D Flyover mode with real-time rendering of buildings in select locations.
Unfortunately for owners of older iOS devices, Flyover and turn-by-turn navigation will be available only on the iPhone 4S and iPad 2 or later.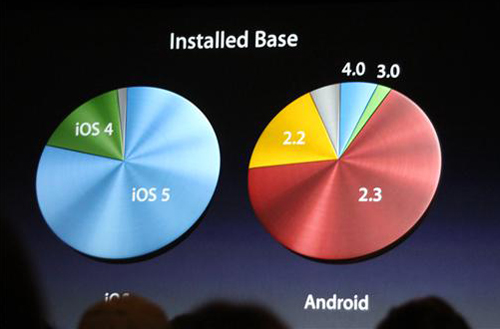 According to Apple, most iOS devices are up-to-date. Android, not so much (image: AppleInsider)
In addition to his digs at Google, Forstall also unveiled a raft of new features in iOS 6, a beta of which was provided to developers on Monday, and which will be released "this fall" for the iPhone 3GS and later, second- and third-generation iPads, and the fourth-generation iPod touch:
Siri updates: Apple's oft-maligned – and sued – voice-recognition beta software will be updated to include improved sports info, restaurant listings that include linking to reservation-making OpenTable, and movie listings and info with help from Rotten Tomatoes.

Siri will also enable automotive use in what Apple calls an "Eyes Free" mode, being summond by a steering-wheel button; Apple is working with BMW, General Motors, Mercedes, Land Rover, Jaguar, Audi, Toyota, Chrysler, and Honda to add this capability to their vehicles.

In addition, Siri will expand its language base to include Mandarin and Cantonese in mainland China; Cantonese in Hong Kong; Mandarin in Taiwan; Korean; Italian; French, German, and Italian in Switzerland; Spanish in Spain, Mexico, and the US, and English and French in Canada.

Facebook integration: In a not-so-subtle slap at Mountain View's sputtering Google+ social-networking effort, planet Earth's squillion or so Facebook users will find their favorite time-waster integrated into iOS apps much as Twitter is today, making it straightforward to share, for example, location information with friends when in Maps and URLs when in Safari. Facebook events will appear in the iOS Calendar app, and friends' phone numbers and email addresses in Contacts.

Perhaps most important to Apple's bottom line, App Store favorites will be easily shared among Facebook friends, which should help cut through the clutter of the now-650,000 apps in that overloaded warehouse. The same capability will be available in the iTunes Store for music, TV shows, and movies. Perhaps most important to developers' bottom lines, Apple will make public the APIs for Facebook integration.

Phone app improvements: When you're notified that someone is calling you on your iOS 6–equipped iPhone, two new buttons will be appear on the alert screen that should help when you're unable to take the call. One option will send the caller a prerecorded message, and the other will ignore the call but remind you about it later, with that "later" being either a predetermined time period or location, such as when you leave the vicinity of your office.

There's also a new "Do Not Disturb" setting. Activate it, and your phone won't interrupt by either ringing or lighting up the display, but it will receive the messages for your later action. You'll also be able to allow calls from some numbers but not others to interrupt you, and you can set a number to get through after repeated attempts – useful in case of an emergency.

FaceTime expansion: Currently, Apple's video-calling capability has only been available over Wi-FI. In iOS 6, mobile-phone carrier connections will be added. In addition, iOS 6 will allow you to unify your phone number and your Apple ID, so you'll be able to receive on your Mac or iPad FaceTime calls that have been sent from an iPhone – and that capability will be extended to Apple iMessage SMS-like service, as well.

As might be guessed, Forstall didn't discuss how degraded image quality might be over 3G wireless networks.

Photo Stream sharing: A simple upgrade will allow you to choose friends with whom to share photos, and the photos that you want to share. The friends will receive a push notification that the photos are available, which they can view and comment on using their iOS 6–equipped iPhone 4 or later, iPad 2 or later, or Mac OS X Mountain Lion device.

Windows users will be able to view Photo Stream–shared images over the web – Forstall, however, didn't specify which browsers would be compatible, and Apple's web site only refers to an "up-to-date browser" as being required.

Mail app enhancements: In addition to decluttering the interface and making it easier to add photos and videos, the iOS 6 Mail app adds two new mailboxes: VIP, into which you can direct email message from those folks whose missives you don't want buried amongs the normal daily welter of whatever, and Flagged, into which will go – you guessed it – flagged messages.

Although Forstall wasn't clear on the point, it appears that VIP is iCloud-based, so only messages to that Apple-hosted account can be so tagged, and both VIP and Flagged mailboxes will only be available on iOS 6 running on the iPhone 4 or later and iPad 2 or later.

Passbook: The most "solution-in-search-of-a-problem" new feature in iOS 6 will be a new app called Passbook, which will gather together your online "passes" such as movie tickets, retail coupons, airline boarding passes, loyalty cards, and the like into a single location.

Speaking of location, the location awareness of the iOS device will bring up, say, your Starbucks coffee card when you're near one of that Seattle-based conglomerate's myriad caffeine-vending facilities – which, here in San Francisco at least, means practically every block.

One nice Passbook touch: since the passes are live, they can be updated dynamically – for example, if your flight's gate changes, your iOS 6 pass will note the change.
All in all, Forstall said, there will be 200 new features in iOS 6 – many, of course, being either tiny or so deep in the OS that they'll be of interest only to developers. Others, such as expanded accessibility features and what appear to be vastly improved Chinese-language capabilities, are targeted at specific markets.
What's also clear is that iOS 6 is also targeted at a specific mobile operating system and "dairy product" developer that happens to be located in Mountain View, California, exactly 8.9 miles north of Apple's 1 Infinite Loop headquarters, according to Google Maps. ®
* We have no reason to doubt Macworld's quote, but we do want you to know that we are unable to verify it. Y'see, for its own unstated reasons, Apple doesn't allow The Reg to attend its events, so we weren't there to hear Forstall's snarkiness in person.