This article is more than 1 year old
Money men want bombproof data centre on satellite site
Apollo radio site Jameson Earth Station slated for redevelopment by Oz company
Australian telecommunications company PlusComms is poised to acquire a piece of global telecommunications and space history as it seeks to raise capital for the purchase of the Jamesburg Earth Station.
Located in California's Carmel Valley, Jamesburg was built to assist the Apollo moon landings and until 2002 was a fully functional communications station operated by AT&T.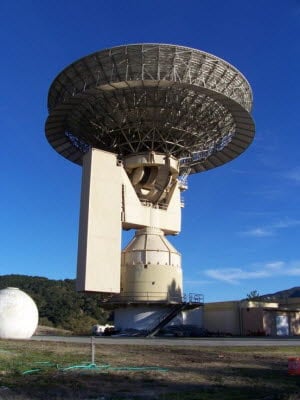 The relic has been on the market for some time with a price tag of just under US$3 million. For that wad of cash you get a house, barn, heliport, around 150 acres of land and a 97-foot satellite receiver with associated structures ... including a bunker.
You can peruse the real estate listing here.
The site has been in the hands of Silicon Valley entrepreneur Jeff Bullis for seven years. He originally purchased the property for $1.7 million and spent a further $2 million developing it.
Bullis has described the site as "great place for Armageddon" as he feels the above-ground bunker is "so strong that you couldn't knock it over with a five megaton nuclear blast,"
PlusComms founder and regional operations manager Robert Brand says that claim is "a bit wrong" but feels the site is sufficiently secure it is the ideal spot for an armageddon-proof data centre.
"We intend to build a tier 3.5 data centre with multicarrier fibre with diversity path and a backup multi-gigabit microwave link. The site is ideal as a backup site for government or companies and is away from the dangers of San Francisco and LA earthquakes, tsunamis and other disasters," Brand told The Register.
Once the sale is completed, Brand expects the facility to be operational within the next 8-12 months depending on customer requirements.
"The dish needs repair, but our focus would be on separate satellite dishes for customers to provide communications to remote locations or in the case of a major disruption, we would be able to provide satellite comms by prior agreement," he said.
The current investors for the proposed Jamesburg redevelopment include the current directors of PlusComms and, once capital raising is completed, they aim to be self-funded.
Brand said that once key customers are secured, the group would expand operations to fill the whole site and will use it as a base to develop its portfolio of mining and space technology ventures including a range of GPS tracking and navigation products for underground use targeting the mining sector and a global deep space network.
"We intend to turn the space, mining and tracking sectors on their heads when these products get to market. We are developing a number of new products that the world has never seen before - at least not with these abilities or prices," he said. ®