This article is more than 1 year old
Now TalkTalk cuts Brits' access to The Pirate Bay
Downloaders WalkWalk the plank
TalkTalk became the final major telecoms company in the UK to comply with a High Court judge's order to block access to The Pirate Bay via its network.
According to TalkTalk subscribers, the blockade began overnight, however the ISP hadn't responded to The Register's request for comment at time of publication.
Usefully, Reg reader Dean sent us this screenshot of what's served when TalkTalk punters try to conventionally access www.thepiratebay.se: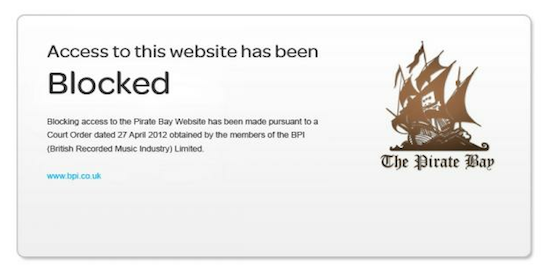 BT, meanwhile, was granted more time to come to an agreement with music lobbying group BPI. The national telco was not on the business end of the court order, unlike its rivals, nor is it expecting to.
El Reg has been told by the BPI and BT that a deal is to be struck by both parties "in due course".
TalkTalk, along with BSkyB, Virgin Media, Telefonica and Everything Everywhere have now all complied with the order, made on 27 April, to block access to the BitTorrent search website.
It was ruled in February this year that The Pirate Bay's operators and its users were liable for copyright violations.
Sweden-based thepiratebay.se, the target of the blockade order, serves up "magnet links" to music, movies and other file downloads. ®