UEFA Euro 2012
Three Lions?
---
Android App of the Week Assuming you haven't been on another planet for the last few months you'll be aware that soccer's 2012 European Championships kicked off in Warsaw on Friday. Sixteen teams, 31 matches and, I predict, the usual post-mortem in regards to England's woeful performance.
Not that I can gloat if England does crash out at the first hurdle. Being half Scots and half Welsh neither of my teams are even travelling to Poland and the Ukraine. Still, I like to keep track of who has beaten who and to help with this, UEFA has launched an official app for Android and iOS.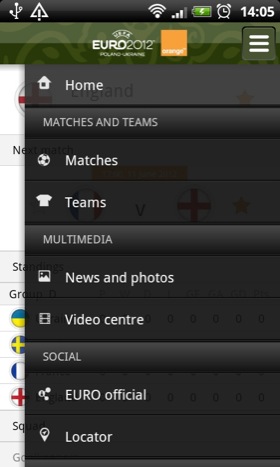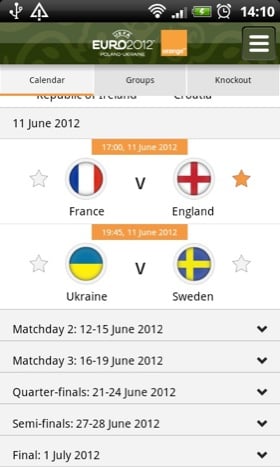 The app contains plenty of info
No prizes for guessing the app contains details of all the teams, matches and results from the tournament. Keeping up with your home team or any others you are rooting for is made easier by an option to set them as favourites.
There's plenty of detail available too. Tap on a team and as well as it's fixtures you get a squad list broken down into goalies, defenders, midfielders and forwards. Tap on a name and you get a picture and key international career stats.
Open up the main menu and will find self-explanatory sections devoted to Matches and Teams, Multimedia, Social - this includes a pretty meagre list of local places showing games on the telly complete with virtual reality directions - a Fankit and Travel.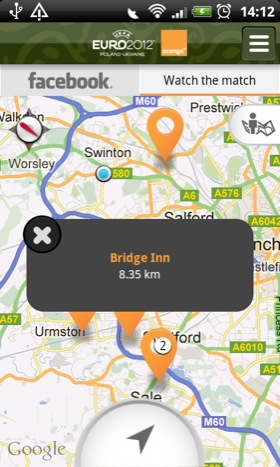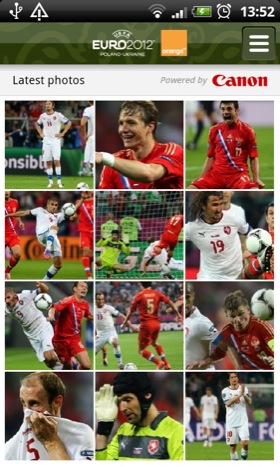 Are the matches on in a pub near you? No? Console yourself with a smart picture feed
If free video sounds too good to be true, that's because it is. At the time of writing the video feed has yet to start and when it does it highlights will cost you £6.99 after midnight which is poor value.
The Fankit is also a bit pointless. It's really is nothing more than a home for Orange's advertising, which happily is not to be found anywhere else. The official UEFA wallpapers may appeal to some, though.
Of rather more value is a photography feed sponsored by Canon - and presumably shot on its kit. Fast loading and swipable from one to the next I can see this being a handy visual enhancement to the tournament.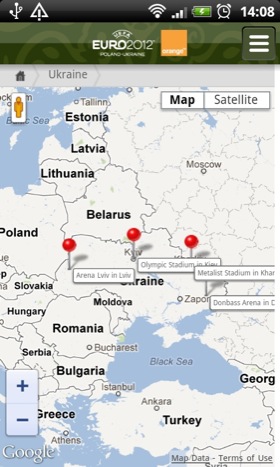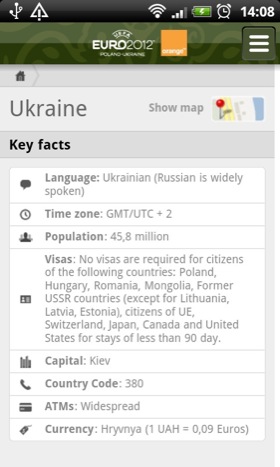 Where games are being played - and how to get to them
For those too busy or lazy to keep up with what's going on there are a selection of optional push-notifications for goals, news or video posts relating to your favourite team or teams and important match events like yellow and red cards.
A small gazetteer gives handy travel information for the host nations including time zones, ATM availability and currency details. There is also more detailed information on all the cities where the matches are being played. ®
Size 6.5MB
Apps2SD No

More Android App of the Week Winners

Pocket
Evernote
IMDb
National Rail Enquiries
Textgram

UEFA Euro 2012
All the footie facts from Poland and the Ukraine and some other stuff.
Price:
Free (ad supported) RRP