Cisco Live 2012 Cisco Systems is fired up, and if you are in one of its markets and one of its new adjacencies, the company is coming for your market share and more than its fair share of the profits.
The networking giant and server and web services provider is hosting its Cisco Live customer and partner event in San Diego this, week and is feeling pretty good after running aground two years ago when the company decided to try to push the world toward video rather than waiting patiently for the transition from voice and data to video to develop on its own.
Cisco is all about predicting and capitalizing on market transitions, which is why it is not just a router provider as it was back in the 1990s. You would think that CEO John Chambers would be sick and tired of talking about this, but this is the sermon he preaches to the Cisco faithful and to competitors as well. And Chambers is tireless when it comes to delicately bragging about how much better at innovating and acquiring Cisco is compared to its competition in myriad different markets.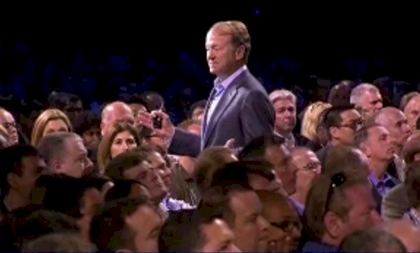 Cisco CEO John Chambers with the Cisco faithful
But Cisco is not always right, it helps to remember. Chambers fell in love with the Flip camera and set top boxes and anything else that would clog networks and get service providers and enterprises to upgrade their networking gear.
The only problem was that no one is in that much of a hurry to move to the slower video format for all kinds of communication. And then this silly thing called the Great Recession came along, too, at just the same time that Cisco's competitors in switching and routing were sharpening their knives.
We here at El Reg are quite fond of the text format, for instance. And anyone who had to sit through the hours of presentations at Cisco Live this week to get the few important nuggets of information that this story (and a few others) will present knows how poorly suited audio and video information is for many types of information exchange.
Chambers may correctly predict that video may be the dominant form of data exchange over the internet in terms of exabytes of data transferred, as he did during his keynote today, but let's not confuse data with information here.
A picture is worth a thousand words, and sometimes you can describe what is important in the image better in few tens of kilobytes of text instead of showing it with megabytes in an image viewer. A video feed rarely contains more information than a transcription plus a few key images, and it takes too long to absorb. And you read newspapers and online sites like this one precisely because you want the synopsis without all the pain of taking that data in so slowly from video and audio. Or, you are just goofing off at work again. . . . (For which we thank you.)
Chambers likes the market transition speech as much as IBM CEOs Lou Gerstner and Sam Palmisano liked to talk about the balance of Big Blue's portfolio and its annuity-like revenue streams from software and services. Cisco is impressed with itself for adapting and surviving, and Chambers used the keynote speech at Cisco Live to once again remind partners and customers that the transitions are coming more frequently and that Cisco has to pay attention to customers to make sure it doesn't jump the gun or miss one.
"It's only by listening to customers that we capture market transitions," Chambers explained. "We listen to everything you say, and it would scare you how much information that we gather to make a decision."
Cisco is expecting that at least every other year it will be facing at least one major market transition, and as it expands into new markets, you could argue that it might be facing these turning points in a market, when it can win or lose a dominant position, on an increasingly frequent basis.
"If we don't change, we get left behind," Chambers lectured. "And who is the most difficult to change? The companies that are successful." He said that "market transitions wait for no one" and that the "speed of change is just beginning in this hyper-connected world," and added that Cisco had the lofty goal of "changing the way the world works, lives, learns, and plays."
And to do that, Cisco will have to roll with the transitions. Something that it has done for more than two decades now, Chambers bragged:
And over the last two years, everyone was saying that Juniper Networks was going to eat Cisco's lunch in routing, and that Hewlett-Packard was going to eat its lunch in switching, and that Huawei Technologies was going to give Cisco grief.
But it didn't quite happen that way over the long haul, two years after Cisco got distracted by its many acquisitions and lost its way while at the same time managing a fairly large splash into the server business. Considering all of the change Cisco was managing, it is remarkable that Cisco has done as well as it has, despite the jarring drop in margins on some of its products, the layoffs, and the confusion of a couple of years ago.
"Remarkable progress, but room for improvement," was how Chambers graded the company. Well, actually, here's the report card he gave Cisco:
Chambers was quite proud of the market share gains in routing, despite the considerable pressure from Juniper and Huawei, saying that more than eight points of market share had "never been done before." He also said that in North America at least, Cisco is the number two blade server maker and it has set its sights on the number one spot.
Cisco has a long way to go before it is a player in both the blade and rack parts of the business, and racks are still important for a lot of shops, but rising to the number three position in blades in three years is not shabby at all.
Cisco has a real chance of dislodging Fujitsu from its number five spot in the overall server revenue rankings in the next year or two and maybe Oracle from the number four spot maybe a year or so after that. If Cisco would listen to El Reg and build a baby modular server suitable for SMBs who already buy Cisco networking gear, it might even do better than that.
The main thing that Cisco has to do is not get ahead of itself, as it did a few years ago. And Chambers, who is trying to build an even bigger legacy before he retires than he already has, needs to be patient. Nearly running the company aground hard during the Great Recession slowed him down considerably.
Whether this means Cisco won't jump to transitions so fast, leaving room for competitors, remains to be seen. We'll know in about five years, when this transition to cloudy infrastructure is largely over for whatever portion of workloads will be moved outside the data center walls. ®
Similar topics