Part 2 Computacenter was a £463m sales organisation when Mike Norris took the helm in 1994, with an operating profit of £8.5m. In 2011, turnover was £2.85bn and operating profit was £74m.
Norris began his ascent through the ranks in 1986, when he was made the firm's top account manager. Two years later he was regional manager for operations in the capital, and he then became GM of the systems division in 1992 before finally becoming CEO two years later.
"Money was a motivation when I first started but it isn't now, don't get me wrong, I love being paid, I wouldn't do it for nothing but I want to build something bigger, I like the adoration, the ego of it, but I think there are more egotistical people. I love the team, and doing it together as a team".
Norris says he still goes onto the sales floor for a cup of coffee and likes to get involved in sales calls, talking to 'my people' and 'my people's people'. "I like reaching down into the organisation, it makes it a better company and the job more enjoyable."
In nearly three decades at the company there have been some sweeping changed in Computacenter and more widely in the channel.
"The obvious thing is the international stuff because more than 50 per cent of Computacenter's employees and revenues are outside of the UK."
Computacenter launched in France in 1994, the year Norris took and in Germany 1996, it also has operations in Belgium, Switzerland and 600 staff at a call centre in Spain.
The continental spread stabilised group results in 2011 and this year helping to offset a decline in spending by the UK government and the City.
Norris says it plans to expand further in Western Europe, "there are gaps" before "I head out to other territories," he says.
The organisation has a tie-up with Compucom in the US and forecasts turnover of $50m this year with zero staff, backing off global contracts to the firm stateside and charging the customer for work done.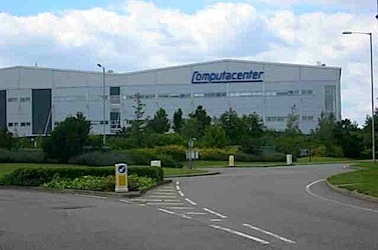 Computacenter building in Hertfordshire Credit: Jack Hill, licensed for reuse under Creative Commons
Norris says the power base is "definitely" shifting to the continent with an SAP system deployed first in Germany and across the rest of Europe. It is also worth noting that two of Norris' exec line-up are from the continent: Henri Viard, CEO at CC France and Oliver Tuszik, his German counterpart.
The industry has also evolved dramatically during Norris' tenure, with the obvious point being the commoditisation of IT products and plummeting margins.
Indeed it's no longer de rigueur to be classified as a reseller because the money in simply shifting tin has almost entirely evaporated.
"We've been selling services for a long time to enrich the sale: when you are selling hardware you might as well sell a maintenance contracts, support, help desk, a bit of training. Improving the margin"
The "gear change" that sped up the death of reselling came when HP acquired Compaq and overhauled "incredibly good Ts&Cs to "not dreadful but more normal Ts&Cs".
This was evident in CC's 2005 profits which nearly halved to £34m from £68m in the previous year. "It was very, very painful... We pushed services to the front of the sale rather than an afterthought.
"We realised we needed to be less reliant on vendors, more reliant on things that are inside our control. I can't run a listed company and some guy in Palo Alto gets out of bed the wrong side and wants to change world Ts& Cs and I'm screwed.
"CC can't be relied upon if we are at the whim of vendors, especially when it is very consolidated, so we've got to be more in control of our own destiny and actually that probably means developing a services-based business."
CC has experienced only two years when the top line went backwards: in 2000, following the bumper 1999 – when it could be argued that customers fearing the Millennium Bug wasted billions of cash worldwide on upgrades; and then in 2005.
"Vendors are very important to me," he says. HP is CC's largest vendor and Cisco is the second biggest. "But there's no single one event, no one vendor that could do a single thing to me that could really really make me [put out ] a major profit announcement."
Services account for 50 per cent of Computacenter's gross margin but the road has been long. When Norris started at the company more than half of the staff were sales bods, now the sales team number 300 out of 5,000 wage earners in the UK.
"In the early '90s, customers started asking for a proposal, send out RFPs, a big wedge of documents and do presentations, so I think it's more structured, more planned: big reviews, pipeline management... The sales campaign lasts months, it used to be hours.
"It used to be about stock availability: I've got those products, do you want them? If you had a product the chances are no one else did so capturing stock was really important. Inventory was short. Now procurement consultants sit on the other side of the table with customers, its a much more structured bid process and that is very, very different,
"It's about getting senior IT people to say that company did a great job for me; I trust them. If I can get senior IT people in organisations to promote our work to other IT people that is the best way to sell," he says.
The cloud is the next evolution in the shift to delivering IT as a service though analyst Canalys reckons the biggest opportunity for the channel between now and 2015 is in transforming data centres.
"I think that is right. I get a bit angry though. The trouble with cloud is that you are either in one of two camps: you've either got total religion on it or you are anti. Cloud is an evolution not a revolution, the market's gone from ASP, to SaaS, to cloud computing – the label's changed but its effectively the same thing maturing and getting more likely as the speed of the network increases, and reliability of the server, storage improves.
"Cloud will change the data centre side of our business. But whether the server you attach to or the app you look at is in the cloud or in the basement, the end user still needs support, especially if they've forgotten their password or a device breaks."
The evolution of resellers is something that has been under discussion for years. Does Norris still have the stomach for the channel or would he fancy moving into the hot seat at a vendor?
"I'm probably getting to the stage where I'm unlikely to go and do any other job anywhere else, if you'd asked me five years it might have been different but [now] it's CC to the end".
Sources suggest Norris had a sniff around vendor land a few years ago but was not likely to get anywhere near the same level of control he enjoys at CC.
The age of retirement is set to rise to 67 leaving Norris with 17 years to go.
"I don't want to quit anytime soon; I enjoy it too much. The work-life balance in interesting. Different people treat life in different ways; I'm a grazer, I don't have a division between work and life. I love my life being integrated. When my wife married me she married CC as well.
"I look at very senior people that run the UK sub of an American company, they don't have much influence over the corporation and I'd miss that. I run a public company. It's not my company: it has my image for obvious reasons, but I'm a hired hand. I'm a well-paid hired hand but I'm in charge and have the ability to say it's my bat and my ball."
Maybe IT's gain was nightclubbing's loss. ®