Dell blades up EqualLogic storage arrays
Part of the Converged Blade Data Center
---
Dell is previewing a new blade server implantation of its EqualLogic storage arrays that will slide into its M1000e blade enclosures and offer customers and all-blade server, storage, and switch option, while at the same time not many compromises on performance or density.
The EqualLogic PS-M4110 blade array takes up two half-height slots in the M1000e chassis, and Dell puts in two cluster array controllers in the center of this big fat blade and mounts seven drives in front of the controllers and seven drives behind them. The drives all plug into the M1000e for power and connectivity to the blade chassis and therefore out to the blade switches and servers in the chassis.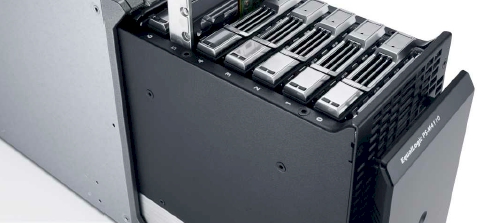 Dell EquaLogic blade array internals
Dell is offering four different configurations of the EqualLogic blade array. The PS-M4110E uses 2.5-inch SAS drives spinning at 7,200 RPM in either 500GB or 1TB capacities. You can have 14TB per array and up to 28TB per EqualLogic array group inside a single chassis, and you can put a maximum of two groups inside the chassis for a total of 56TB of storage. (Presumably there is not enough power in the supplies in the back of the M1000e to fully load it with eight arrays.)
You can use one or two EqualLogic controllers, depending on your workloads needs. Here's what a four-array configuration might look like, with one array slid out for dramatic effect: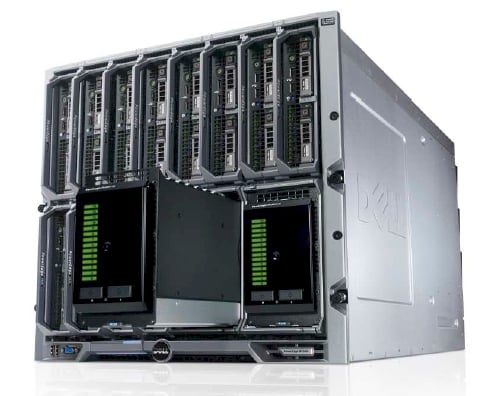 Four EqualLogic PS-M4110 blade arrays matched to eight PowerEdge M620 two-socket blades.
The PS-M4110X version of the EqualLogic blade array uses 2.5-inch SAS drives as well, but they spin at 10K RPM and come in 600GB or 900GB capacities. So you top out at 12.6TB per array, 25.5TB per group, and a max of 50.4TB for the two groups inside the array. Again, you can have one or two controllers, and Dell says that this particular model can support up to 6,000 Microsoft Exchange Server mailboxes.
The PS-4110XV uses 2.5-inch SAS drives spinning at the fastest 15K RPM speeds, with one or two controllers possible and disks in 146GB or 300GB capacities. Loaded up with fourteen of the fattest drives, that's 4.2TB per array, 8.4TB per group, and 16.8TB across the two groups allowed inside the chassis across the four arrays.
Dell has pulled a random performance stat out for this configuration, too, saying that it can support 4,690 I/O operations per second (IOPS) when running SQL transaction processing workloads and up to 500MB/sec in SQL data warehousing throughput.
The PS-M4110XS comes with two controllers by default and uses both disk and flash storage. Specifically, it has nine 600GB 10K RPM SAS drives and five 400GB SSD drives, again in 2.5-inc form factors. That gives you 7.4TB per array, 14.8TB per group, and 29.6TB across two groups you can put inside of a single M1000e array.
This setup can boost on some workloads by as much as 12 times, according to Dell, and can boost SQL transaction processing performance by as much as 7.5 times based on all-disk alternatives.
Dell is not providing specific pricing on the EqualLogic blade array, which starts shipping in August, along with the Converged Blade Data Center that was also announced today at the Dell Storage Forum in Boston. But Dell did say that the starting price for the array would be under $20,000. No word yet on what configuration that might be.
In addition to the new disk iron, Dell is cooking up updated releases of its EqualLogic software stack, all of which are in preview, and all of which will be ready for customers to run on the broader range of EqualLogic arrays as well as on the new blade array starting this fall.
This includes Array Software 6.0, which turns the disk clusters into a SAN and automatically virtualizes and optimizes the placement of data on the arrays. The update includes synchronous replication to protect data, a tweaked and more efficient implementation of snapshot borrowing, volume unmapping, and volume undelete, and the addition of full-encrypting SED drives and IPSEC.
SAN Headquarters 2.5 will integrate with all the new features in Array Software 6.0 and do automatic diagnostic data collection for Dell's support organization.
Dell is also working on Host Integration Tools for Microsoft 4.5, which as the name suggests integrates the EqualLogic software stack with support for new Microsoft operating systems and systems software (very likely Windows Server 2012 and a slew of other things), single sign-on for PowerShell, and enhancements to the Auto-Snapshot Manager for Microsoft Windows and SharePoint. ®