World smart TV sales surge
More folk buying - but are they watching?
---
Smart TVs - tellies with internet connectivity - accounted for almost 20 per cent of the televisions that manufacturers shipped in Q1.
Almost 30 per cent of them went into Western Europe, but the world's biggest IPTV fans are clearly the Japanese: 46 per cent of the TVs that shipped there were smart devices.
Yet Japanese shipments were low: just under 1m units. More than 2.6m smart TVs shipped into Western Europe, and some 3.2m into China.
Penetration there hit 30 per cent as Chinese buyers snapped up new TVs to help celebrate the Lunar New Year, market watcher NPD DisplaySearch said today.
Smart TV Penetration, Q1'12 Shipments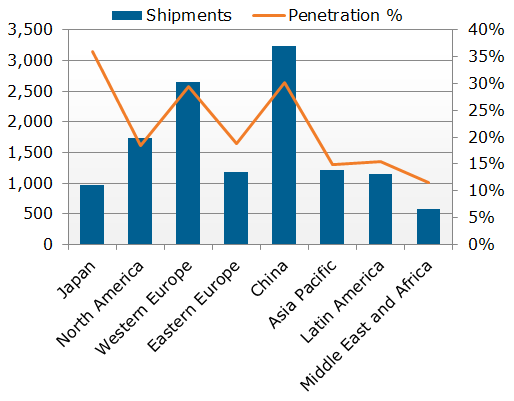 Source: DisplaySearch
LG and Samsung may have been promoting their smart TV platforms of late, but in Q1, the number of smart TVs they shipped as a proportion of their total telly shipments were just 26 per cent and 12 per cent, respectively.
Compare that to Sony: more than half of the TVs it shipped in the quarter - 51 per cent - were internet connectable.
Other familiar brands - to Westerners - Philips, Sharp and Panasonic scored 36 per cent, 28 per cent and 21 per cent, respectively, according to DisplaySearch's numbers.
Smart TV Penetration, Q1'12 Shipments by Brand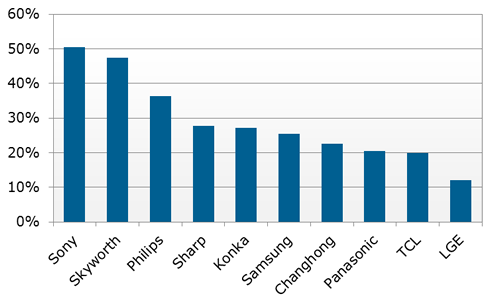 Source: DisplaySearch
Still, it's impossible to yet say how many of these devices are being used for their connected capabilities. Smart TV functionality remains just one television feature among many. China's high sales, for instance, may say more about the growing conspicuous consumption of the Chinese middle class than the keenness of folk there on net-sourced entertainment.
And past studies, in the UK at least, suggest a significant proportion of smart-TV buyers aren't making use of the technology - or even know what it's for. ®