Review They say good things come in small packages, and at only 3.5m long Volkswagen's new city car is certainly small. To put that into context it is 28.5cm shorter than the unloved Fox it replaces and only 53.5cm longer than the original Mini.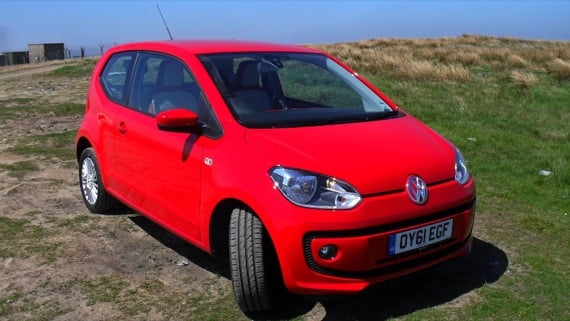 VW's done a good job with the styling
There's no denying VW has done a good job with the styling. Aside from the BMC Mini and new Fiat 500, it's the only very small car I actually like the look off. Most are bulbous little lumps with all the visual flair of a squashed grapefruit, but the Up has presence and balance.
Maybe it's the sculpted headlamp covers or the creased flanks or that kinked C-pillar that make it look like the sort of car a 40-year-old bloke could drive. Either way, it makes the likes of the Ford Ka and Toyota Aygo look positively feminine by comparison.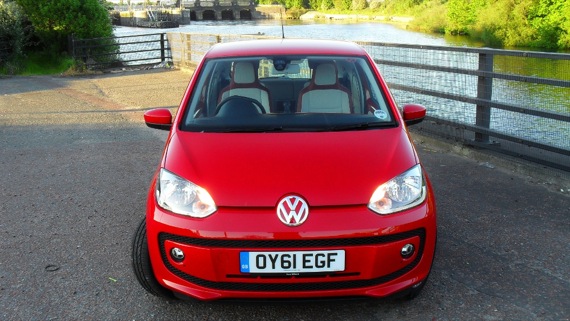 Thumbs up for the sculpted headlamp covers
Power comes from a brand new and very refined 12-valve 999cc three-cylinder petrol engine which is available in either 60 or 75bhp trim. Whichever you plump for, the torque output is the same 95Nm (70lbs-ft) from 3000 up to 4300rpm.
The 75bhp motor should average 60.1mpg and emit 108g/km CO2. The 60bhp model betters that to the tune of 62.8 and 105, respectively, while the BlueMotion Technology version with start/stop manages 68.9 and 96. There's no diesel version, but next year there will be a fully electric Blue-e-Motion model.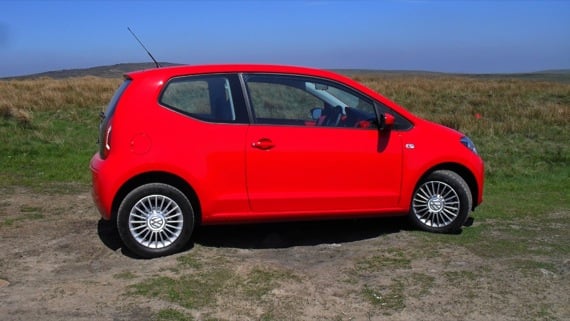 Not at all feminine
The car I was given was the top-of-the-range High Up - below which sits the entry-level Take Up and mid-level Move Up - with the more powerful engine. After a week of mixed urban and open road driving, I ended up getting 52mpg which I was pretty pleased with.
In the hands of anyone who enjoys driving, economy will suffer though because the little Up is an absolute hoot to drive. I'd go as far as to say it's even more enjoyable than the Fiat 500 Twin Air.