So much fun to drive
Planted four-square on the road, with a slick five-speed box and with enough power to have fun with but not enough to get into any tricky situations, the Up scoots around like a Yorkshire Terrier that's been at the Red Bull.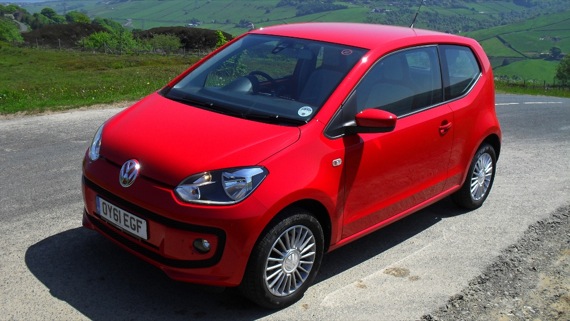 Been at the Red Bull?
Despite the piddly little motor, the Up can get quite a move on. The 0-62mph sprint is dispatched in 13.2 seconds and top speed is 106mph. Take it out on the motorway and it's a surprisingly refined little bus. Quiet cruising is helped by the Up's 0.32 coefficient of drag, which is good for a dumpy little hatchback.
For such a small car interior space is impressive. This is partly thanks to a very long - in relation to actual length - wheelbase, thin-backed seats and a physically small engine that, were it any further forward, would be the bonnet mascot.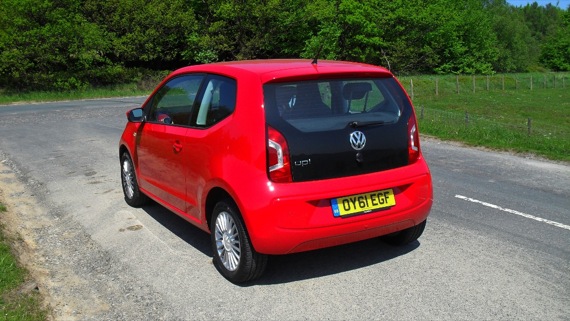 The sort of car a 40-year-old bloke could drive comfortably?
Four adults can get on board with ease and once inside sit in some comfort. Rear legroom was certainly sufficient for me and I stand at 5'11". The boot, though hardly vast, will swallow 251 litres of shopping and comes with a clever double-decker floor. If you fold the rear seats down you have access to a useful 951 litres.
Interior fit and finish is first rate. From the bright red plastic panels than dominate the light and airy cabin to the usual excellent VW/Audi switchgear and plethora of cup holders and cubyholes, the Up is a genuinly pleasant place to spend time.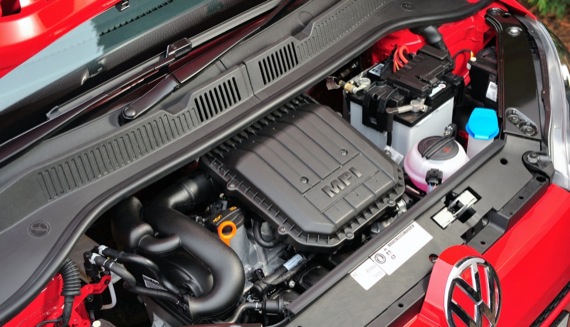 The engine is as far forward as it's possible to go
Unique to a car in this class is the City Emergency Braking system. Like the crash avoidance technology Ford fits to the Focus, it keeps a beady eye on what's in front of you and if it detects something that you likely to hit throws out the anchor.