Satnav special
It only operates at speeds below 19mph and the laser sensor can't see further than ten metres ahead, but it certainly works, as the twit who backed his BMW 5 series out in front of me in the Trafford Centre car park had cause to be grateful for.
To be honest, I wasn't paying attention either but luckily the Up was and it came to dead halt just under a meter shy of an embarrassing phone call to VW's press fleet manager.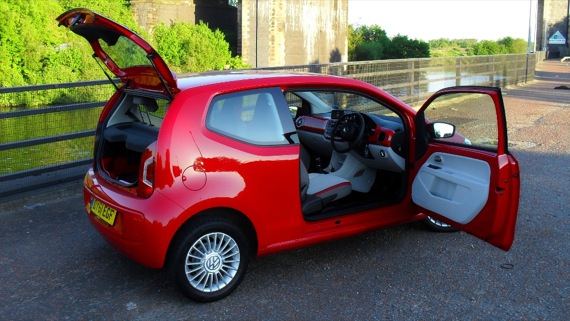 Boxy but spacey
Volkswagen has come at the whole infotainment thing from a fresh perspective for the Up. Free with High Ups but costing only an extra £265 with the cheaper models, Maps and More is a bespoke Navigon satnav that quickly and easily clips onto a fixed mount on the dash.
When in place it works as a satnav, trip computer, hands free telephone system and, thanks to a Micro SD card slot, digital music player. Unlike a third-party satnav, it is fully integrated into the car so music plays back through the same speakers as the CD/radio, ditto navigation commands.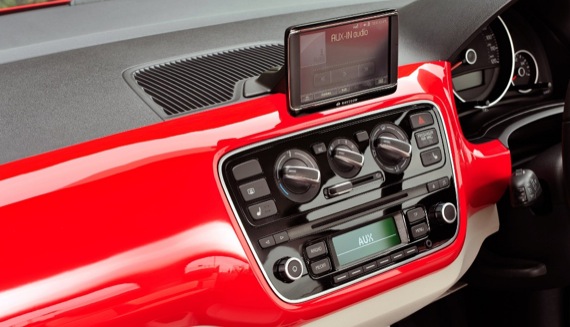 The Navigon-made Maps and More
In fact, it's just like having a fully-functional 5in touch screen navigation and entertainment rig but a lot cheaper and you can carry it about with you. It's a clever idea extremely well executed. For instance, when you disconnect the unit it remembers where you stopped and so can guide you back. It's almost reason enough alone to buy an Up.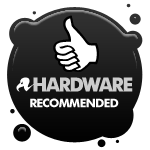 Prices for the Up start at an eminently reasonable £7995, but remember that the Skoda Citigo and Seat Mii are the same car underneath - don't let the Up's unique window line fool you. For my money, the VW is by far the better looking of the three but the Skoda will start from £7630 and rumour has it there will be some cracking personal contract plans on offer too.
Verdict
Quite simply the best very small car money can buy. ®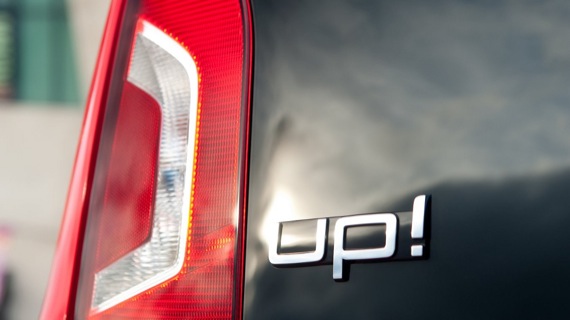 We could do without the exclamation mark
More Car Reviews

Vauxhall Ampera
Hyundai Veloster
Renault
Twizy
Renault Mégane
265 Trophy 2.0
Kia Rio

Volkswagen Up!
A very impressive very small car.