Grab a coffee, add two sugars, and check the news on your tablet: you've just helped kill off a species in a country you might never have heard of.
A school of physics may not be where you expect someone to analyze endangered species, but that's the source of research from Sydney University, showing the link between the gadget, food and resources supply chains and global extinctions.
In an extraordinary feat of data collection spanning years, the researchers from the University's Integrated Sustainability Analysis group in its School of Physics gathered data on five billion supply chains, and 15,000 commodities in 187 countries, and compared all this to a register of 25,000 endangered species.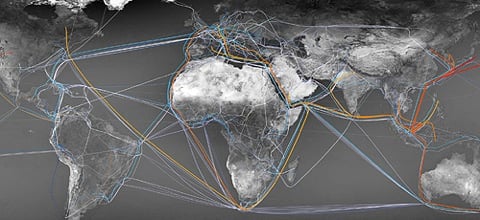 The Web of the global supply chain is a species-killer. Source: University of Sydney
As much as a third of global species threats are due to global trade, the research finds. This is a huge shift, the researchers say, compared to a pre-globalised world, where many species threats were localized (due, for example, to local demands for food, fuel and living space).
In essence, the research finds that advanced economies – the places that try and police their own backyards, once our middle classes start noticing that such things matter – have mostly exported environmental destruction to countries that supply them with agricultural products, resource commodities, or manufactured goods.
Australia is a notable and not-honourable exception to this: our enthusiasm for mining makes us a net exporter of goods that endanger species through pollution and habitat loss (not that this is likely to give pause to people like Titanic-replica-builder and CIA conspiracy theorist Clive Palmer).
It's across the board, the researchers say: developed countries' demand for sugar, coffee, tea, timber, textiles, and raw materials for manufactured goods (read: blood minerals for electronics) all export environmental destruction to the supplier and cause "a biodiversity footprint that is larger than at home".
Professor Manfred Lenzen, lead author of the research (abstract here) says he hopes the research will drive better product labeling and regulation, with co-author Barney Foran saying that sustainability shouldn't be "a premium product". ®