Blighty's one and only astronaut, Tim Peake of the European Space Agency, has just embarked on a bold mission into an environment where few human beings have ever ventured: that of the saturation diver, semi-permanently adapted to life under high pressure and able to survive only deep underwater or inside pressurised containers.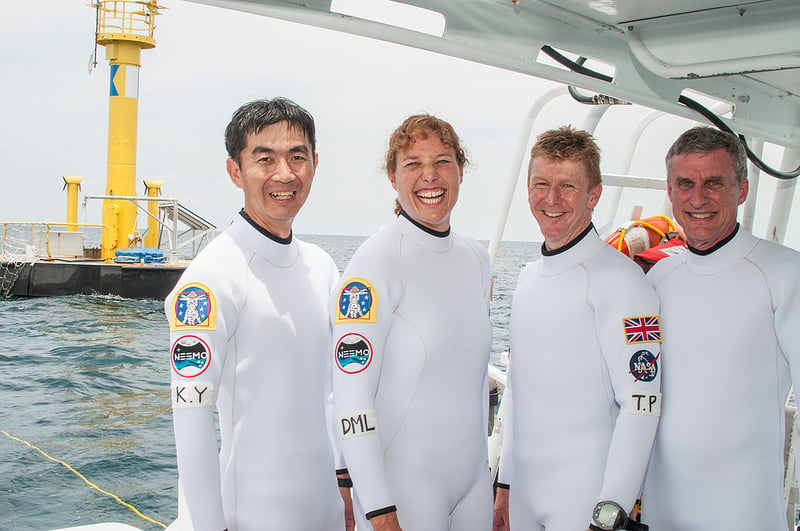 Test pilot, teacher, test pilot, boffin
As a member of NASA Extreme Environment Mission Operations (NEEMO) expedition 16, Peake has now left the surface off Key Largo in Florida and descended to the Aquarius habitat on the seabed. He and the rest of the NEEMO 16 crew will live and work in and around Aquarius for the next fortnight, using the buoyancy underwater to simulate and practice for operations at an asteroid in deep space beyond the orbit of the Moon.
Aquarius is an ambient-pressure habitat and the surface of the "moon pool" in its entrance/exit chamber is situated at 47 feet below the surface, meaning that the pressure inside is approximately 2.5 times normal. As any diver fule kno, breathing air at this depth a human being must return to the surface within a couple of hours or risk decompression sickness (DCS, "the bends") as nitrogen absorbed into the body fluids fizzes out damagingly.
But Peake and his fellow aquanauts won't bother, simply remaining under pressure as they practice their zero-gravity procedures and returning to the Aquarius between dive sessions. After around a day, their body tissues will be able to absorb no more nitrogen at that pressure - they will be saturated. When their two weeks are up, they will close a pressure door between themselves and the moon pool (to avoid flooding the habitat) and gradually reduce their local pressure over a period of almost 16 hours, releasing the nitrogen from their systems so slowly that the bubbles remain tiny and harmless. Then they'll exit the habitat via an airlock and swim up to meet a boat which will take them back to Florida.
There's some risk involved in such a mission, as the aquanauts won't be able to simply swim up to the surface in the event of a problem with their dive gear or the habitat - they could expect a nasty or even potentially fatal DCS episode if they did that. Technically this is indeed "saturation diving", as NASA proudly says.
However real sat divers would probably sneer at the idea of the aquanauts being like them: commercial saturation divers working offshore typically remain under pressures of 6 bar or more (equivalent to 160+ feet). They have more to contend with than just DCS - at such pressures there are also issues of nitrogen narcosis ("the rapture of the deeps") and, at greater depths still, High Pressure Nervous Syndrome. As a result they must breathe helium/oxygen or exotic helium/hydrogen/oxygen trimixes to stay functional, and their compression and decompression schedules at the beginning and end of a task period last days, not hours.
There's another difference too. Commercial sat-diving operations are ruled by considerations of economics and safety as opposed to the somewhat mysterious imperatives which have placed the one-of-a-kind government funded Aquarius on the sea bed. It's a lot simpler to run and maintain a pressure habitat on the surface where you can get at it easily, so that's how commercial sat divers live during their stint under pressure: inside a small set of linked pressure chambers generally mounted aboard a ship, barge or offshore rig. When it's time to do a job, one of these chambers (the "bell") is detached from the others with divers inside and lowered down to depth by a crane. Once the job is done, the divers get back into the bell again, seal it and are hoisted up to mate on to the main saturation living complex (the "bin", in North Sea parlance).
One thing's for sure: it'll all be rather strange for Tim Peake, who is from one of the mainstream astronaut communities - that of military test pilots. Peake, before being selected by the ESA, was a Major in the British Army Air Corps and an Apache attack-chopper test pilot*. There have been diver astronauts - perhaps the most famous being former US Navy diving officer Heidemarie "Toolbag" Stefanyshyn-Piper, who gained worldwide notice even among her high-profile peers after she dropped a bag of tools into the Earth's atmosphere while spacewalking outside the International Space Station. However serious diving background is rare for an Aquarius "aquanaut": Peake's fellow NEEMO 16 members are also from mainstream 'naut communities. Mission commander Dottie Metcalf-Lindenburger is a NASA "educator astronaut" (a teacher by trade), Japanese 'naut Kimiya Yui is another military test pilot and Steve Squyres - not an astronaut at all, though a regular Aquarius habitué - is a Mars boffin.
Though NEEMO 16 is nominally focused on preparation for a deep-space asteroid mission, it remains unclear just when any such mission will set out - and deeply unclear that any of the NEEMO 16 team will be on it when it does. For the foreseeable future, Peake, Metcalf-Lindenburger and Yui can hope only for a stint on the space station - most probably just one and that if they're lucky, as there are many more astronauts wanting a berth on the orbiting outpost than it can find space for in its remaining likely lifetime.
There's loads more on NEEMO from NASA here, and enthusiastic blog posts from Peake here and here. ®
Bootnote
*This is no doubt a source of much chagrin in the RAF, whose head stated a few years ago that any British astronauts should naturally come from the airforce. Peake seems likely to become the second real British 'naut as and when he flies on a space mission, following Helen Sharman who went into orbit as part of the UK/Russian Project Juno way back in 1991. (Trivia: Peake is the second British Army major named Tim to be chosen as a 'naut - Sharman's understudy in '91 was Major Timothy Mace, also of the AAC.)