This article is more than 1 year old
Apple silences mute kids' speech app in patent blowup
iThing maker plays judge, jury and executioner
Apple is accused of silencing children after its App Store pulled an iPad speech synthesiser that gave mute youngsters a voice.
Touchscreen-controlled software Speak For Yourself allowed kids with speech problems to use a picture-based on-screen keyboard to string words into sentences, which were then spoken by their iThing.
In February, the makers of the paid-for app were slapped with a lawsuit by Prentke Romich, a company selling a rival product that is ten times more expensive. Prentke alleged that Speak For Yourself app infringed its software patents and demanded it be withdrawn from sale. That court case, in the Western District of Pennsylvania, is on-going.
However Apple pulled the under-fire app from its online store earlier this month. Since the app was designed exclusively for the iPad, the delisting means it has disappeared entirely and its coders can't issue updates to users. This could be problematic if the upcoming iOS 6 release from Apple reveals or creates bugs within the software.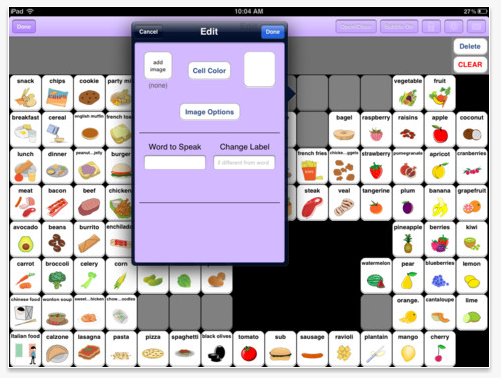 The interface of the Speak for Yourself app. The dynamic keyboard used is one target of the patent lawsuit
In response, Speak for Yourself's makers wrote on their website:
We have taken all of the necessary and legal steps to defend the lawsuit and protect Speak for Yourself, the app that we created that hundreds of people who are unable to talk are using to communicate. Unfortunately last week, Apple removed our app from the App Store under pressure from Semantic and Prentke Romich.
Apple got in touch with Speak For Yourself's developers on 26 March and asked them to prove that they had not infringed the patents, court documents show. The app maker said it reiterated its legal case to Apple and heard nothing more from Cupertino. The software was then pulled on 4 June.
The speech synthesiser had been praised as "life-changing" for non-verbal children. New York blogger Dana Nieder, whose speech-impaired daughter Maya uses on the app, explained its impact:
Maya can speak to us, clearly, for the first time in her life. We are hanging on her every word. We've learned that she loves talking about the days of the week, is weirdly interested in the weather, and likes to pretend that her toy princesses are driving the bus to school (sometimes) and to work (other times). This app has not only allowed her to communicate her needs, but her thoughts as well. It's given us the gift of getting to know our child on a totally different level. I've been so busy embracing this new reality and celebrating that I kind of forgot that there was an ongoing lawsuit.

Until last Monday. When Speak for Yourself was removed from the iTunes store.
Another parent told The Reg his speech-impaired son needs the app. He said: "I am the father of a 3-year-old nonverbal son who uses the Speak for Yourself app. I am highly disappointed that Apple would remove such an important app with out any ruling."
We pressed Apple for a comment, but have yet to receive a reply. A free feature-limited version of the app - Speak for Yourself Lite - is still available on iTunes. ®