iOS App of the Week I almost decided not to review Over 40 Magnifier, simply because of its rather insulting name. I may be over 40 but my eyeballs haven't given up the ghost just yet. Nonetheless, this simple little app has still proven to be very useful and has taken up permanent residence on my iPhone.
My eyesight is respectable enough, but I still find that I often struggle to pick out the tiny print used for things like serial numbers on the backs of gadgets and the small print hidden away on product packaging. The iPhone's built-in camera does have a 5x digital zoom, but Magnifier bumps that up to 10x and has allowed me to pick out many little bits of text that I otherwise simply wouldn't have been able to read.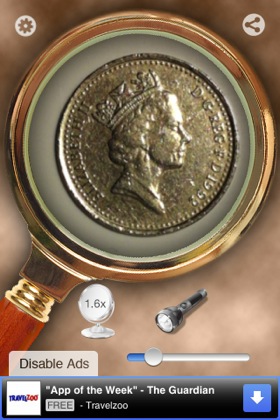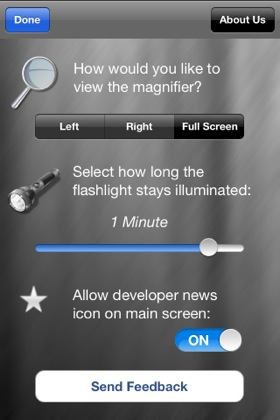 The app does what it says on the tin
Rather foolishly, Magnifier starts with a gimmicky image of a magnifying glass on screen, which looks cute but restricts your view of the image far too much. Fortunately, you can switch into full-screen mode using the options in the Settings screen. Magnifier then works in a similar fashion to the iPhone's standard camera app, focusing automatically and allowing you to pinch in and out to zoom the image.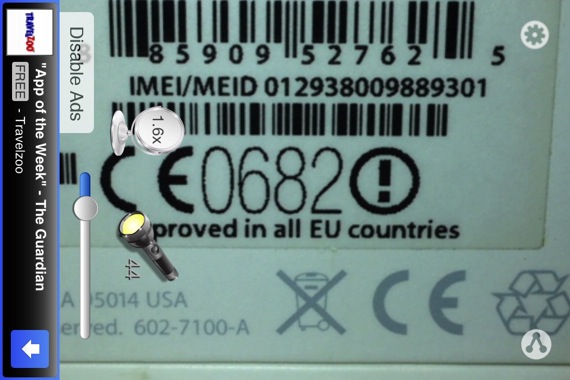 You can view images full screen too
Sometimes it's poor lighting that causes problems as well as the size of the text, so Magnifier allows you to use the the iPhone 4/4S' flash as well, and this can often make all the difference between a clearly visible image and a dark blur.
You can also use the flash on full power as a torch, which came in handy during a recent power cut. The app works with the iPhone's front camera too, so you can get a really good look at your nasal hair.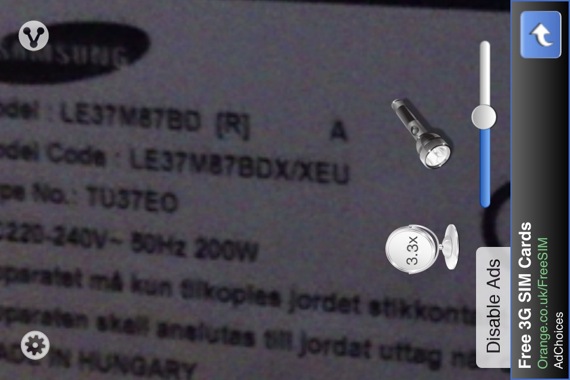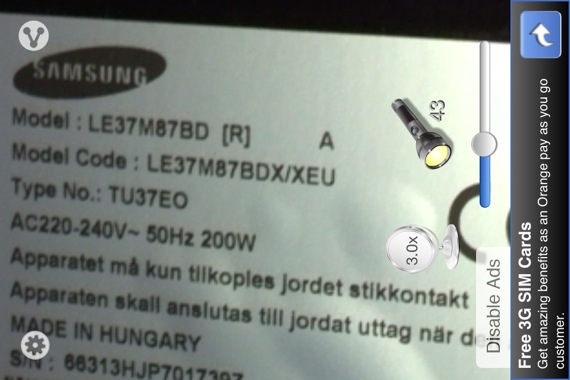 The app can use the phone's camera flash as a torch - handy in some situations, as you can see
The standard free version of Magnifier is ad-supported, with an option to drop the ads if you cough up £1.49. The ads do take up a noticeable chunk of screen, so it's worth paying that nominal sum to remove them if you decide the app is worth keeping.
The digital zoom isn't perfect, of course, and sometimes the maximum 10x setting just degenerates into pixellated fuzz. However, there have been many occasions when Magnifier has allowed me to pick out text or detail in an image that I couldn't manage using the ordinary iPhone camera app, and that alone is enough to earn it a place on my Home screen. ®
More iOS App of the Week Winners

HMRC Tax Calc
Vyclone
Run, Zombies!
SoundBrush
SkyDrive

Over 40 Magnifier
A simple but useful app – regardless of your age
Price:
Free (with ads) £1.49 (no ads) RRP
Similar topics