Cloud gorilla Amazon Web Services has revamped its technical support services for its various heavenly compute and storage infrastructure while at the same time tweaking the packaging of those support services.
Tech support is something that AWS customers and competitors alike grouse about, and internal IT staff that have control of physical servers as well as the technical chops to babysit the hardware and software like to boost their job security by pointing out that there is no way the AWS support people can do as good a job supporting cloudy infrastructure compared to internal techies minding internal iron.
With the price cuts announced by Amazon today, that argument will get that much harder to make, even if it turns out to be true in many cases. In other cases, such as with startups with no IT admin staff and no desire to have one, no matter what Amazon is charging for tech support and no matter how poor it might be by comparison to a top-notch internal staff, they don't have any other practical option rather than to rely on a hoster or cloud provider and to pay for tech support, so the comparison is moot.
Under the new support plans, all customers who sign up for AWS services are automatically signed up for basic support, which has been expanded with 24x7 access to customer service (by either email or phone) for billing and account issues as well as tech support when virty systems are misbehaving. The basic support service gives customers best practices guides and technical FAQs as well as access to AWS Developer Forums, which Amazon's engineers moderate, and the AWS Service Health Dashboard. This basic support tier is free.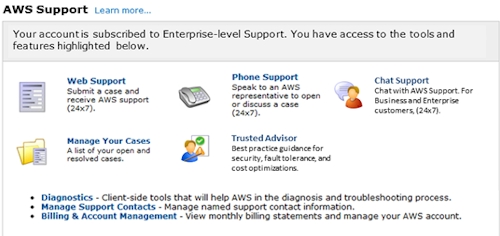 What used to be called the bronze support level on AWS is now known as developer support, and it costs $49 a month and has all the goodies in the basic support level and then adds on one-on-one support for AWS-related questions (meaning, you can't expect Amazon to provide tech support for your software stack running atop the custom Xen hyprvisor that Amazon uses as a container). You get a single named contact at your company that can contact Amazon for support issues, who you can contact by email. Developer support also includes a minimum 12-hour response time for tech support cases, and access to the technical support engineers via email for help configuring, operating, and maintaining core AWS services and features.
The business support tier on AWS, formerly known as gold level support, takes the basic and developer tiers, but shrinks the tech support response time down to one hour and gives you phone access to the engineers as well as chat on top of the developer-grade email access. According to a blog post by Jeff Barr, evangelist at the AWS unit, the chat service is brand new, but the neat new feature is a capacity planning tool called AWS Trusted Advisor (it is not a person, but a program) that watches all of your infrastructure and services as well as what is going on across the entirety of the AWS data centers and makes suggestions as to where you could save money, improve performance, or tighten security.
With business support, Amazon is also providing support for the most common third-party software running on AWS infrastructure. The list of software that Amazon will help you with includes:
Operating Systems: Amazon Linux, Canonical Ubuntu, Red Hat Enterprise Linux, SUSE Linux Enterprise Server, and Microsoft Server 2003 & 2008 R2
Web servers: Apache, Microsoft IIS
Databases: Oracle MySQL and Microsoft SQL Server
Disk Management: LVM and RAID
VPN Connectivity: OpenVPN and RRAS
Email: Sendmail and Postfix
File Transfer: FTP
Development and Management: Amazon SDK
Before the support rejiggering, the gold-level support cost $400 per month plus an additional percentage based on your total monthly AWS bill that tiers in such a way that it gets smaller and smaller (but still rises) as you consume more AWS resources. With the new plan, the business support level that replaces the gold tier has a base price of $100 per month, and Amazon is adding a lower tier at the high-end when customers spend more than $250,000 a month. The way the tiering works is like this: You start by paying whichever is larger: either $100 or 10 per cent of your monthly AWS bill if it is $10,000 or under. Then, between $10,001 and $80,000, you add on 7 per cent of that; for spending of between $80,001 and $250,000, you add 5 per cent of that incremental spending; and now for any spending above $250,000, you add on 3 per cent of that. So, if you spend $85,000 a month on AWS purchases, for example, you are going to run up a $6,150 bill if you opt for business-level support.
Amazon has killed off its old platinum support tier and replaced it with enterprise support. With the enterprise level, you get everything in business class, but you get 15-minute response time on critical issues instead of one hour, plus a dedicated technical account manager that is intimate with your particular AWS setup and the software stack that runs on it. You also get "white-glove" case routing, which gets your tech support issues straight to the best Amazon engineers instead of going through the normal channels. Amazon also tosses in management business reviews, which looks at how you've architected your applications and virtual systems and helps you as you launch new products and services that rely on AWS.
The enterprise pricing is tiered, just like business-class support, but the numbers are all larger. In the base tier, you pay either $15,000 a month or 10 per cent of your monthly AWS bill if it is $150,000 or under – whichever is larger. The next tier is when you spend between $150,001 and $500,000, you add on 7 per cent of that onto the bill. The next tier up is for AWS capacity that costs between $500,001 and $1m, on which you add 5 per cent of that incremental spending. And for the final tier, you add 3 per cent of any spending above $1m. So let's say you spend $1.2m a month on AWS; the enterprise support bill would be $70,500. Under the platinum service, there was just a flat 10 per cent usage fee on top of the base $15,000 fee. So this new plan will lower the bill for larger consumers of AWS resources.
You can change from one support level to another at any time, or cancel your support at any time, which is what makes this utility computing. ®
Similar topics