Prime Minister David Cameron has dismissed as "nonsense" claims that suggest a "nod and wink" arrangement had been struck between his Conservative Party and Rupert Murdoch's British newspaper business News International.
The PM, speaking at the Leveson Inquiry into the relationships between politicians and media owners, added that he found 24-hour-rolling-news gruelling.
He said that politicians had to get out of the "cycle, not try and fight every hourly battle, focus on long-term issues and be prepared to take a hit on a story they don't immediately respond to."
However, he also indicated a preference for broadcast news over that of the press. Television news programmes are of course regulated, whereas the newspaper industry is not.
On the subject of friends who are journalists, the PM said: "These are people I see very regularly and I'm never going to tell my office each time I see them."
Cameron said he has "known some of them for 20 or 30 years." These chums include Times' journalists Danny Finkelstein, Alice Thompson and Sarah Vine, who is the wife of education secretary Michael Gove.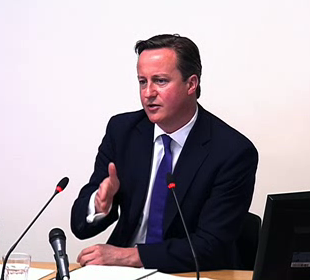 Bad news for news that is BAD
The PM also has a friendship with ex-News International boss and one-time News of the World editor Rebekah Brooks.
Cameron had earlier admitted that some MPs had been involved in favouritism with journalists, including anonymous briefings, which the PM described as "deeply regrettable".
He claimed that the relationships between the press and politicos had turned sour, after ties had become "too close and unhealthy".
The prime minister is expected to be grilled at the Leveson Inquiry for around five hours. He will face questions about his specific relationship with Murdoch as well as Culture Secretary Jeremy Hunt's botched handling of News Corp's failed BSkyB bid.
In Parliament yesterday, Hunt survived a Labour motion calling for the cabinet minister to be referred to the PM's independent adviser on ministerial standards. ®