Is it time for enterprise PC outfits to carry Apple Macs?
Mac-maker is hard to ignore, despite being a 'difficult' vendor
For years, the Apple Mac has played a small and niche role in enterprise computing, finding favour in areas such as desktop publishing, graphical design and video or content production.
But on the whole, a perception of a high price coupled with the lack of a broad spread of general purpose applications has had the tendency to restrict overall adoption to a small (read low single figure) share of the enterprise PC market.
But Apple, by its own admission, is no longer a computing company but a consumer electronics company. The success of the original iPod, after a slowish start, was phenomenal. But this has been eclipsed many times over by the introduction of devices based on iOS such as the iPhone (and its oft overlooked brethren, the iPod Touch) and the iPad. In 2011, Apple sold more iOS-based devices than it sold PCs based on Mac OS over its entire history.
This iOS success does not mean that there is no future for the Mac – it is still growing in a PC market that is largely flat or declining. This sustained growth has started to result in increased share for Apple in the PC market, and this – combined with the increasing use in business of the iPhone and iPad – is starting to lead to more use of Apple Macs in the business environment.
It's still the case that the vast majority of revenue in the enterprise PC space is still – and will remain so for a long time to come – driven by Windows. Apple kit, while popular in the consumer markets, is still not very widely carried in the enterprise PC channel. A choice faced by enterprise PC resellers that don't sell Macs is whether investing the time and effort to skill up to sell Apple kit is worthwhile when the mainstream PC market is still very much Windows-based.
Some of the biggest concerns frequently cited about working with Apple are that it is seen as closed, controlling and difficult to work with – and this was a viewpoint that we saw reflected in a channel poll that we ran in December 2011.
But with a choice of eager new PC vendors, such as Asus, along with stalwarts, such as Fujitsu, that are seen as reliably good and easy to work with, what advantages are there to working with Apple when the extra care and attention required may impact existing sales opportunities?
The Windows PC market is composed of lots of vendors offering similar products which all compete with each other for price and features. The end result is that vendors find it difficult to plan for aggressive growth due to the competitive dynamics of the market as vendors jostle for advantage and respond to their competitors pricing moves or promotions.
The Mac sits in a market that is somewhat isolated from the Windows PC. We know from Apple's financial results that the Mac is generally performing strongly. We saw some indications of this from the poll we ran, where Apple was seen – by the limited number of partners that carry the Mac – as being able to set fairly aggressive sales targets for the Mac which respondents felt they were in line to meet.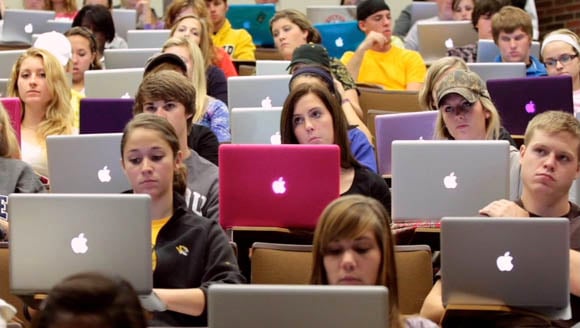 Student leaders?
Taken on its own, this is not particularly compelling as a reason to consider carrying Macs. However, the general trend is that, like it or loathe it, Macs are becoming more popular and accepted within business.
The upshot is that a number of customers may develop a need to purchase, install or support Macs, even if on a fairly limited scale. If their incumbent Windows PC supplier is not able to fulfill the equipment or have the skills to make it work properly, then customers may well start to look around for alternatives, and this could open the door to competitors to step into the relationship.
An added benefit of carrying Macs is that they usually have much higher average selling prices than mainstream Windows PCs. Shifting sales across to Macs can help to drive revenue growth without having to endlessly chase unit shipment growth.
With this in mind, we'd like to learn a little more from those of you who already sell Macs, iPads or iPhones. Please take our short survey.