This article is more than 1 year old
Scottish council muzzles 9-year-old school dinner photo blogger
Hastily organised salad bar fails to stem criticism
A Scottish council has been accused of crushing free speech by banning a nine year old girl from blogging about her school dinners.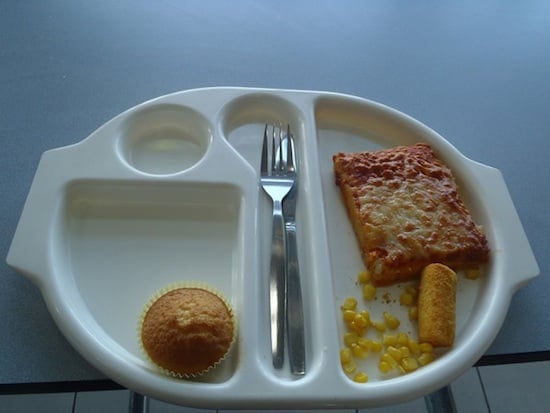 Lunch at a primary school in Scotland: The first photo on the NeverSeconds blogpost that prompted a national media outcry
The blogging nipper - whose write-ups of the cheeseburgers and desultory croquettes that her school were dishing up got attention from the national press - was taken out of class yesterday and instructed not to take any more photographs of her food. In a post titled 'Goodbye' Martha Payne, aka VEG, writes:
This morning in maths I got taken out of class by my head teacher and taken to her office. I was told that I could not take any more photos of my school dinners because of a headline in a newspaper today.

I only write my blog not newspapers and I am sad I am no longer allowed to take photos. I will miss sharing and rating my school dinners and I'll miss seeing the dinners you send me too. I don't think I will be able to finish raising enough money for a kitchen for Mary's Meals either.
Her initial exposure resulted in some big changes - the council sent inspectors to the school and after two weeks the canteen has a salad bar offering unlimited salads, fruit and bread.
Veg's dad explained that the blockage came from the council rather than the school who had been supportive of the project all along …
I contacted Argyll and Bute Council when Martha told me what happened at school today and they told me it was their decision to ban Martha's photography.

It is a shame that a blog that today went through 2 million hits, which has inspired debates at home and abroad and raised nearly £2000 for charity is forced to end.
Argyll and Bute Council are preparing a statement, we'll update when we receive it.
A linked page to a Food for children charity has raised over £6000. ®