Apple 15in MacBook Pro with Retina Display
Simply, a stunner
Pricey performer
Wired network users will mourn the loss of an Ethernet port, though Apple is offering this - surprise, surprise - as an option for an extra £25: it clips into one of the two high-speed Thunderbolt ports.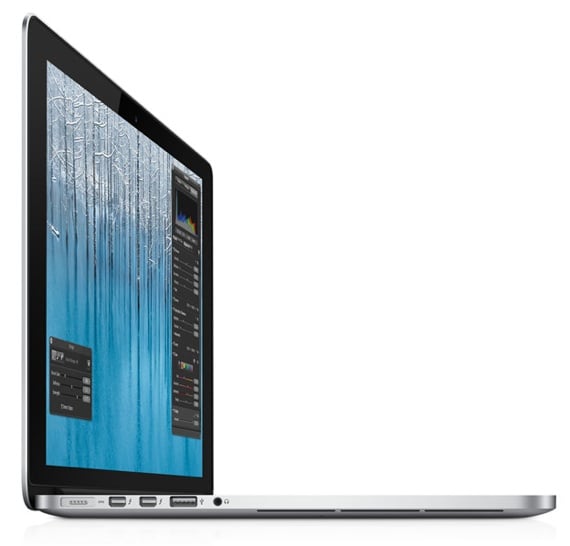 The discreet airvents help keep the MBP warm not hot
The basic £1799 model includes a shiny new Ivy Bridge Core-i7 processor running at 2.3GHz, along with 8GB of 1600MHz Ram and a 256GB SSD that Apple claims is faster than that used in previous models.
There's also a 2.6GHz model with 512GB SSD that costs £2299 – which seems like a lot for a relatively modest upgrade, but that's SSD pricing for you. The Ivy Bridge chip includes the new integrated Intel HD 4000 graphics, but the Retina model also includes a separate Nvidia GeForce GT 650M graphics processor with a gigabyte of dedicated video memory, allowing you to switch between the two graphics chips in order to maximise either performance or battery life as required.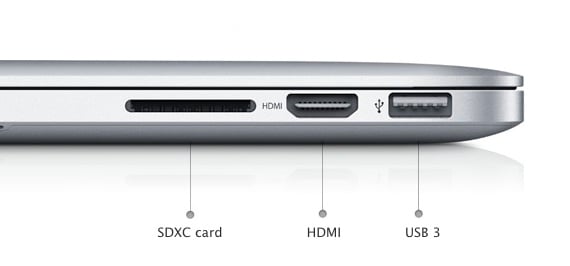 HDMI on a notebook Mac at last
Unfortunately, I wasn't able to use Boot Camp to install Windows on this machine to run Reg Hardware's standard laptop benchmarks. Apple hasn't yet updated the necessary package of drivers. Instead, I used GeekBench, which produced a consistent score of 11,060 – a clear improvement over the 9500 scores reported for 2011's 15in MacBook Pro.
I was curious to see how the battery would hold out, given the resolution and brightness of the Retina display. I couldn't use PCMark 7 to torture test the battery, but using Wi-Fi to stream HD episodes of EastEnders on the BBC iPlayer seemed like torture enough.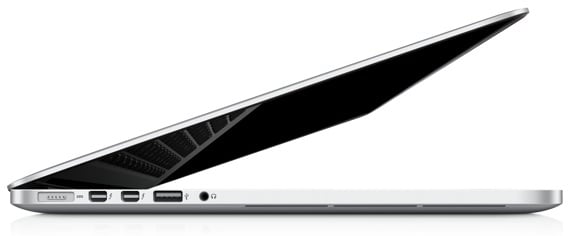 No on-board Ethernet means a £25 add-on for wired network users
This Retina model has a 95Wh lithium polymer battery, compared to the 77.5Wh battery in the standard 15in MacBook Pro, and it allowed me to stream about four hours and 50 minutes of cockney capers – only ten minutes short of the five hours I've seen on previous, non-Retina models. That's pretty good going considering the demands of the screen.