This article is more than 1 year old
Mozilla plans multi-engine search results, native iOS browser
Proclaims intention to disrupt again, dares rivals to follow, may kill Trillian
Mozilla wants to resume its role as a disruptor in the browser world and has started work on a trio of projects it hopes can help it regain market share.
The plans are revealed in a new video* in which Mozilla reveals it has created a Product Design and Strategy team to "identify where we can be the first or the best".
The new team is led by Alex Limi, who says it has been formed because "We need to look ahead more than silicon valley who, at max, can look six months ahead. If anyone is going to disrupt Mozilla it has to be Mozilla, and we got disrupted by a product called Google Chrome or depending on how you look at it, iOS or Android."
That disruption led Limi to ask "What is the reason you would pick Firefox over Chrome?" Right now, Limi says, "I cannot answer that question." One reason he's stumped is that browser experiences have become homegenous.
Mozilla's answer is to ease browser customisation, so users can tailor Firefox to meet their specific needs.
It also has some other tricks up its sleeve, including a new feature called "Search Tabs" that reflects Lini's belief that search boxes will disappear from browsers. Mozilla's answer is to place a vertical row of search engine and social network icons down the left of the screen after users conduct a search. The tabs can be removed, but users will need to rummage around to do so.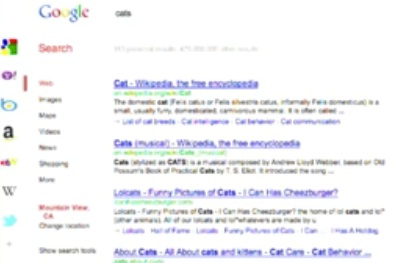 Clicking on the search engine or social network icons at left produces search results from that site
The thinking behind Search Tabs is that users rarely changed the default search engine in Firefox. Single-click access to other engines will, it is hoped, improve the user experience by making it easier to find a wide range of results. Limi gleefully points It's hard to imagine either Google or Microsoft doing likewise, given their vested interests in Chrome and IE. He also feels Apple will not chose to do something similar in Safari.
A second innovation is "Junior" a browser for iPad. Limi says Mozilla wants to be on iOS, even though it can't use its rendering engine and has to use WebKit. "We have no vehicle on one of the biggest consumer markets in the world right now," he says.
Mozilla's response is a full-screen browser. A new navigation tool offers bookmarks-as-buttons and snapshots of recently-visited pages, plus integrated web search. The navigation tool is accessible with a gesture and replaces tabs. Indeed, the browser eschews any top-of-screen navigation whatsoever and has even rejected a fallback tabbed mode.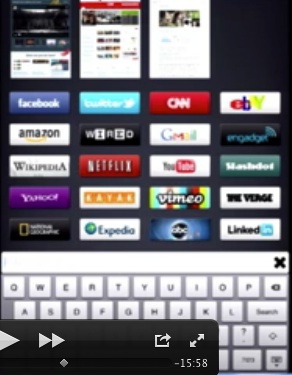 The top row of icons represent recently-visited sites, the smaller buttons are bookmarked favorites
"Presence" is another planned product, and aggregates communications services like email and social networks. Limi says Mozilla can do this far better than multi-network messaging clients like Trillian and a demo shows the organisation has created a chat window that floats at bottom right on PC screens. Firefox logs in to all the communication services users want and then allows messages from all to be sent to and from its new chat window.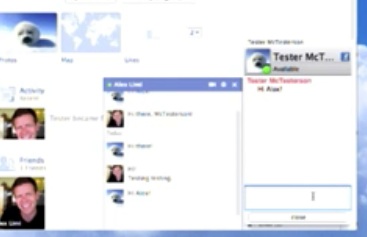 The chat window at bottom right is Mozilla's planned multi-site presence and chat client
Mozilla has not offered any timeframe for final delivery of these features. ®
* Mozilla has not provided screen grabs for the new features and the video of the talk is low resolution. We've tried our utmost to produce indicative screen grabs from the video.