Apple MacBook Air 11in 2012
For the love of Ivy Bridge
---
Review The 11in MacBook Air took top spot in El Reg's recent round-up of the best Ultrabooks – even though, strictly speaking, it isn't actually an Ultrabook, according to Intel's proprietary definition of the term. This 2012 model doesn't tamper with the winning formula, but it does provide a respectable update that should keep it at the head of the pack.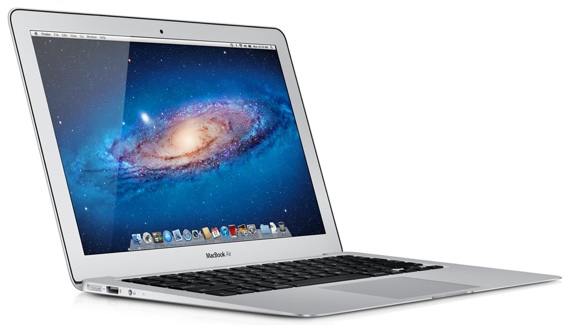 The MacBook Air is as portable and usable as ever - but it's faster now
Prices start, as they did for last year's model, at £849, but the previous 1.6GHz Sandy Bridge Core-i5 processor has been replaced with this year's Ivy Bridge version running at 1.7GHz. The Ivy Bridge chip also introduces the new Intel HD 4000 integrated graphics core and, thankfully, the measly 2GB of 1333MHz DDR 3 Ram that was soldered into last year's model has now expanded to a more respectable 4GB running at 1600MHz.
Apple claims that the SSD drive is faster too, although the size of the drive is still a rather tight-fisted 64GB. You can double that up to 128GB for £80 extra, while a further £130 buys you an Core-i7 processor clocked to 2.0GHz.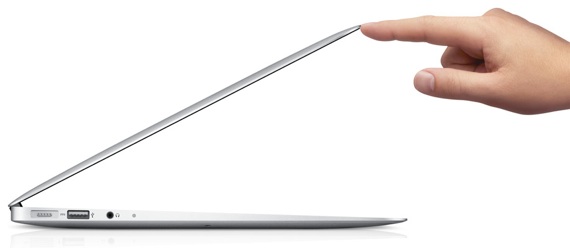 USB 3.0 at last
The 1366 x 768 screen remains unchanged – there's no Retina Display this time around. I'm not too bothered about that, and I suspect that Apple has left the screen alone in order to preserve battery life – which remains a healthy five hours for browsing on a wireless network. However, I would have liked Apple to tone down the glare reflection on the MacBook Air as it has done with the new MacBook Pro.
Unfortunately, I wasn't able to install Windows in order to run Reg Hardware's customary PCMark 7 benchmarks, as Apple's Software Update service doesn't yet have the necessary Boot Camp drivers available. However, using the alternative GeekBench, the MacBook Air achieved a score of 5790 compared to 4700 for last year's model, representing a healthy 23 per cent improvement in performance.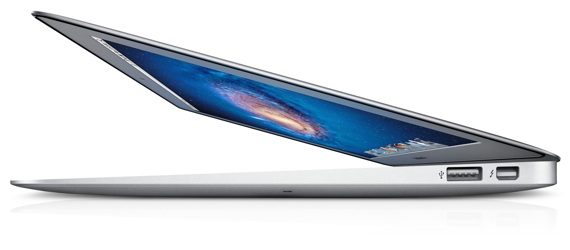 But an SD slot and/or Gigabit Ethernet would have been nice
There have been some other changes too. The Thunderbolt interface introduced on last year's model probably didn't get used much, since the handful of Thunderbolt drives released so far have all been outrageously expensive. But, like all the other new laptops introduced by Apple this month, the MacBook Air has finally gained a pair of USB 3.0 ports. The arrival of SuperSpeed USB was long overdue, especially since the MacBook Air didn't feature Firewire either.