Ultra 'book
Apple is planning to release a Thunderbolt-to-Firewire adaptor soon, but with the new MacBook Pro With Retina Display also foregoing Firewire it looks as though the writing may be on the wall for IEEE 1394 on Apple kit.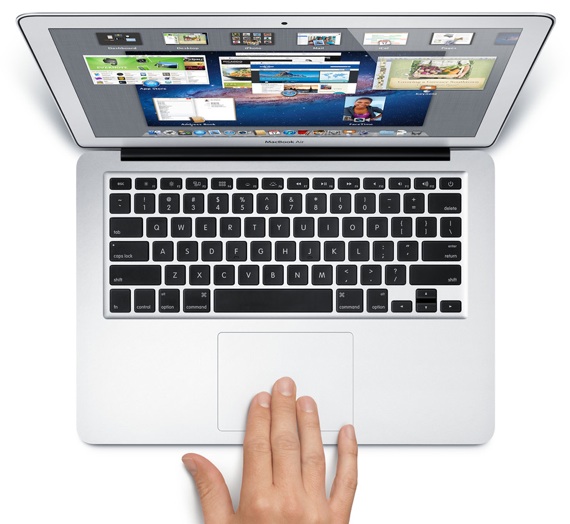 Fine keyboard and a nice, big touchpad
The Air's main connectivity issue now is its lack of an Ethernet port. In the past, your only option for wired networking was to buy one of Apple's USB-to-100Mb/s-Ethernet adaptors, but Apple has also announced a new Thunderbolt-to-Gigabit-Ethernet adaptor too. Both adaptors cost £25, but the Thunderbolt adaptor will be preferable, giving you a faster connection as well as freeing up one of your USB ports.
The webcam has been updated too, now offering 1Mp resolution, sufficient for 720p video, but there's still no SD card in this model as there is in the 13in version. And, of course, the MacBook Air wouldn't be an Apple product if there weren't at least one completely gratuitous change that involves some new type of cabling. This time around it's the Magsafe power connector, updated to MagSafe 2 for some unspecified reason. So if you bought a spare power supply for a previous MacBook Air you won't be able to use it with this one.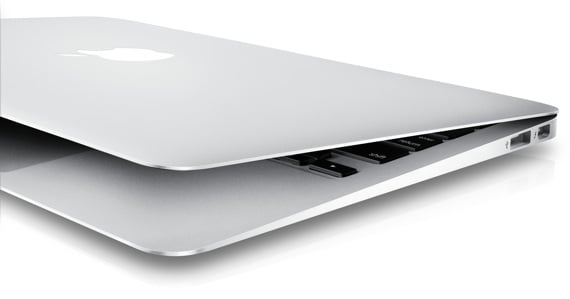 Best notebook-not-Ultrabook?
And, let's not forget, this remains the most portable of Apple's laptops - and one of the most portable notebooks period. It's compact, skinny, and light - just a kilo - so it's great for folk who carry a notebook around at all times. Yet the fine, solid keyboard, big touchpad and decent screen resolution - there are as many pixels on display as on many a cheap or mid-range 15-incher these days - means it doesn't compromise its usability.
Only the aforementioned lack of on-board Ethernet and SD let it down, but I wonder how many general, non-pro users will be inconvenienced by that. Ditto the inability to expand the machine's memory beyond the build-to-order options. But it shouldn't be long before third-party SSD updates will at least let you boost the machine's storage capacity.
Verdict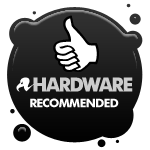 This year's MacBook Air hasn't been reinvented in the same way as the MacBook Pro has. It's essentially a housekeeping update that introduces Intel's Ivy Bridge platform and at long last brings in USB 3. Existing owners won't need to rush out and upgrade, but this update should keep the MacBook Air competitive with all its Ultrabook rivals for the rest of this year. ®
More Notebooks Reviews

MacBook Pro
Retina Display
Ten...
Ultrabooks
HP Envy 14
Spectre
Toshiba
Portégé
Z830-10N
Dell
XPS 13

Apple MacBook Air 11in 2012
A modest update, but still one of the most attractive ultra-portables on the market.
Price:
£849 (64GB SSD), £929 (128GB SSD) RRP