This article is more than 1 year old
Linus Torvalds drops F-bomb on NVIDIA
NSFW Linux hero flips out, flips bird, over lack of support
Linus Torvalds has exhorted GPU-maker NVIDIA to indulge in sexual intercourse with itself, and angrily raised his middle finger to the company to re-enforce the suggestion.
Torvalds' "remarks" were made last week during a live interview at Finland's Aalto Center for Entrepreneurship. After the interview, Torvalds took questions from the audience and during that portion of the event an audience member queried why NVIDIA did not offer support for its GPUs under Linux.
Torvalds responded that NVIDIA's flat out refusal to do so "is the exception rather than the rule" but did add that "Nvidia has been one of the worst trouble spots we have had with hardware manufacturers."
"That is really sad," he said, "because nvidia tries to sell chips chips into the Android market."
At that point Torvalds uttered the expletives hinted at above, and made the gesture below.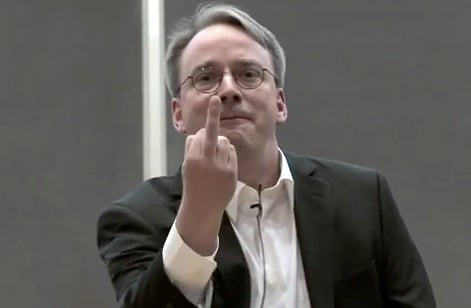 He went on to say that other companies are not perfect either, and that he has had to deal with "companies who just don't care, companies who felt that Linux was not a big enough market, we've had situations like that. At the same time we've had a lot of companies that been very helpful since very early days. I think it is very sad when you sell hardware and you actually use Linux and you are being really difficult about it."
"It's sad, but it is life," he says, before adding "I wish everybody is as nice as I am."
You can see just how nice Torvalds can be at about 49:50 in the video below, which is NSFW for a brief time.
At about 59:00 a NVIDIA staffer takes the mic and confesses to being "evil". Torvalds responds by predicting that if the video above makes it onto the net, millions of people will and should be be offended. ®