This article is more than 1 year old
HP taps Intel Atom for next-gen Moonshot hyperscale servers
Living in a Gemini dream
When HP unveiled its "Project Moonshot" effort last November to create hyperscale servers based on Calxeda's EnergyCore variant of the ARM RISC processor, cynics said it was no doubt interesting in terms of engineering, but that the "Redstone" servers were nonetheless a publicity stunt. Tuesday's preview of the next-generation "Gemini" servers, due later this year from HP sporting server-ready Intel Atom processors also due later this year, confirms that sentiment.
We're all spoiling for a fight between Intel and the ARM collective, of course, and there's very little doubt that once server-grade ARM chips are truly shipping – and not just images in presentations for most of us and real iron for a bare handful – HP will bow to market pressure and deliver real ARM-based server nodes in the Moonshot family of products.
Paul Santeler, general manager of HP's hyperscale business unit, didn't even mention the "A" word during the preview of the Gemini server family at Tuesday's San Francisco event – especially not with the general manager of Intel's cloud infrastructure group, Jason Waxman, in the room.
But Santeler was clear that "Redstone was focused in the development market" and that this contrasted with Gemini, which would have an architecture that would be "relevant for many, many years" and that would support "server cartridges" with a mix of processors.
This is precisely in keeping with what Santeler said last November about Project Moonshot overall, when he explained that the Moonshot family of systems would eventually have low-power Xeon and Atom processors from Intel, low-power chips from AMD, and low-power ARM processors in the server nodes inside the hyper-dense boxes.
The first processor that the Gemini servers will support is the "Centerton" Atom processor, which Intel started talking about back in April. Intel has been talking for some time about a future Atom chip that would burn less than 10 watts of juice, and the Centerton Atom system-on-chip is the one that has been on the roadmaps.
This Centerton Atom will have full 64-bit processing on its two cores, ECC on its DDR3 memory, and will sport VT-x virtualization assistance electronics; it will also weigh in at only 6 watts on Intel's TDP scale.
What Waxman divulged on Tuesday at the Gemini server preview is that the Centerton chip will also support HyperThreading, Intel's implementation of simultaneous multithreading that makes a core look like two cores to an operating system, and that can boost throughput on multithreaded work by 20 per cent or so.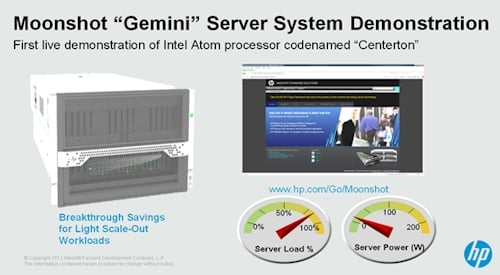 HP's Project Moonshot Gemini enclosure
HP did not reveal any feeds or speeds about the forthcoming Gemini server enclosure or the server nodes that will plug into the server cartridges that slide into that enclosure. But what we can see from the fuzzy picture above is that the Gemini enclosure looks like a 10U rack-mounted chassis with two bays for loading up server nodes. It looks like these server nodes are loading in vertically.
But don't read too much into that. The goal with Moonshot is to get thousands of server nodes into a single rack, have their networking and management "federated", and provide "workload-tuned" server cartridges with a mix of performance, thermals, and presumably storage capacity as needed. (Hadoop needs local disk, web-hosting doesn't.)
In the image above, Santeler showed a live dashboard of the web server supporting the Project Moonshot pages on the HP web site (itself a federation of servers working independently), and showed a single Gemini server node with one Centerton Atom chip supporting 300 concurrent sessions and pushing out over 2,500 concurrent web pages while consuming somewhere between 12 and 14 watts – a lot lower than a 150 watt Xeon-based server node. The Xeon machine can do a lot more work, in theory, of course, but in practice a lot of x86-based servers are not running at anywhere near full-tilt boogie.
This kind of "revolutionary" saving in power consumption is what some customers are looking for as they do dedicated web hosting, Hadoop, offline analytics, memcached caching, and other workloads where the CPU is not the bottleneck. This is akin, explained Santeler, to the shift from an incandescent bulb, which has one element creating a lot of heat with its light, to an array of LED elements, which when ganged up can create as much light but do so with a lot less heat generated and therefore less energy wasted.
Waxman said that HP and Intel have been collaborating on what kinds of chips would be needed in the Moonshot servers, and that HP has driven some of the requirements in the Centerton chip specifically. He added that the two would be getting iron into HP's Discovery Labs, where the Redstone ARM-based machines are today, so that developers could get some time on the Atom-based Gemini machines and see how their workloads run.
Waxman also said that Intel understood that it had to get in gear and deliver true server chips with low power. "Just a few years ago, we thought 65 watts on a Xeon was low power," he said. (Hey, he could write for El Reg with a line like that.)
If Chipzilla hopes to capture its normal inordinate market share of the low-energy server space – which it no doubt it thinks of as its due – then the company cannot mess around. Not with AMD having bought SeaMicro and with a slew of ARM processors coming at Intel from under its feet.
Low-energy servers could account for 10 to 15 per cent of the market by 2015, according to the HP presentation. To that end, Waxman showed a new roadmap for low-powered servers: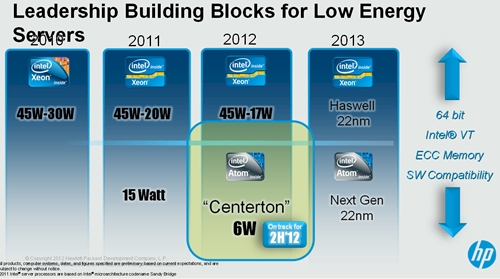 Intel's low-power server chip roadmap
The roadmap doesn't have much on it, mind you. Centerton comes in the second half of this year, and Intel already has low-power variants of its "Ivy Bridge" Xeon E5-1200 v2 chips out the door with 45 watt and 17 watt SKUs. Next year, said Waxman, Intel will move to the "Haswell" microarchitecture on the Xeon E3s while at the same time moving to a new Atom core that will be implemented in 22-nanometer processes. ®