Speedball 2 Brutal Deluxe
Foul play
---
Antique Code Show I know it's not 2095 yet but with Boris back in power and the Olympics imminent, I am preparing myself to witness London fall into terminal decline due to sports related overspending and aggressive austerity measures. Indeed, I can envisage an appetite for a Rollerball-style games event; entertaining the galleries of corporate sponsors. A spectacle probably quite similar to a game I used to play, Speedball 2.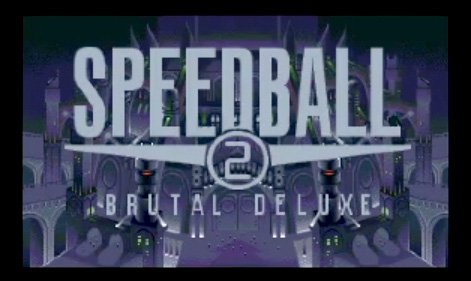 Speedball 2: a different kind of blood sport
Speedball 2's introduction tells us how the original Speedball-league was unregulated and ungovernable due to corruption and violence. With some hasty reorganisation – to make it fit for public consumption – Speedball 2 is reinvented.
I take control of a brave new team, Brutal Deluxe. Although low in the league, I reckon these guys have some prospects. Still, looking at the state of some of these players, I will have to arrange some shifty transfers and expensive upgrades to make sure we make it to the top of the league.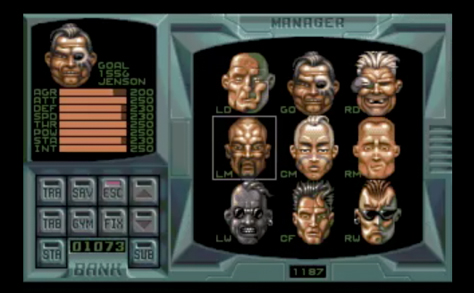 Picking winners
In Speedball 2 each match is made up of two halves running at ninety seconds each. Nine players on each side violently tackle each other for points and a place at the top of the league.
Gameplay is a meat grinder mix of rugby and football with a little hockey/handball thrown in and no penalties for fouling against my opponents. In fact, fouling is actively encouraged. I get the same amount of points for injuring the other team as I do for a goal, watch out goalkeeper you're going to take a bashing!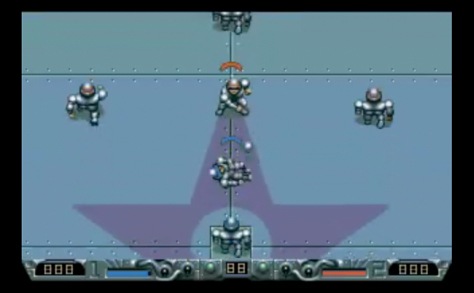 Goals? Well, they come into it somewhere
Yes it's all about the goals but collecting money and speed buffs at the side of the court will help me outrun opponents and buy nifty upgrades. Like Rollerball, I try and keep my grip on the metal ball, passing it when things become too violent or I am at risk of being overwhelmed.